Beehive Plumbing handles all types of sink plumbing repairs, but it's also important for Utah homeowners to know what causes these types of issues!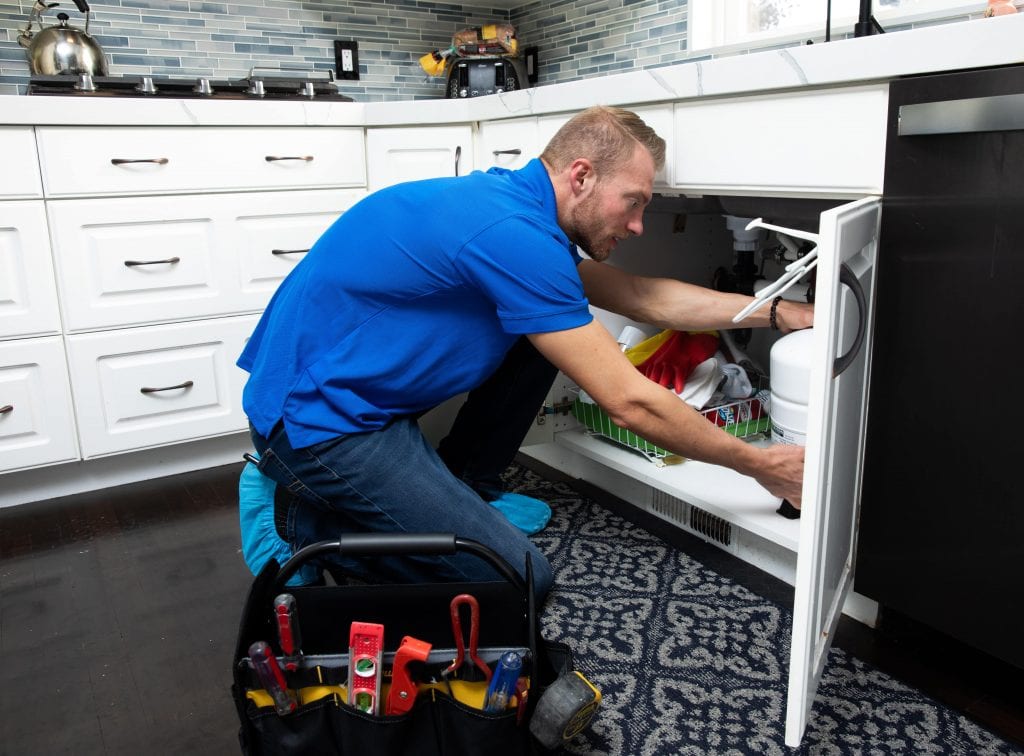 Every household understands just how much they utilize their kitchen sink for a whole variety of purposes, and the overall usage of kitchen sinks is partly why sink plumbing repairs are so common for the Beehive Plumbing team.
We fully understand how frustrating it can be for homeowners when their kitchen sink experiences a leak or needs substantial repairs, and when you're experiencing these types of plumbing issues we'll make sure to get to the root of your problem so we can resolve it once and for all!
Our Master Plumbers will always be able to resolve any and all of your plumbing repairs and issues with your sinks, but it's also really important for home and business owners to understand what the common causes of these types of plumbing issues are for preventative measures.
So below are 7 of the most common causes for sink plumbing repairs and potential leaks!
1. Leaking Drain
Your kitchen sink's drain could be the root cause of what's causing the leak to occur, and this is sometimes the result of inefficient/old plumber's putty. There are also common scenarios in which a sink leak could be caused by a rather old drain that requires repairs or even a replacement.
Our drain cleaning services will always help you establish what your best course of action is, and we'll always go through a comprehensive checkup list to make sure we're covering every possibility to find the root cause of your leak.
2. Leaking Faucet
Every homeowner has noticed a leaking faucet before, and this is typically because they're pretty easy to recognize! However, it's also important for homeowners to realize that leaking faucets could be rooted in a leak that is underneath their sink. These leaks underneath sinks are of course much less easy to spot unless you take a thorough look underneath your counter!
The vast majority of faucet leaks are rooted in worn t-gaskets and failing washers, and these will more than likely require proper replacement. But there are some scenarios in which a faucet leak is indicative of a more serious leak that could potentially necessitate an entire faucet replacement.
3. Your Water Supply's Connection Is Loose
This common cause will many times result in consistent sink leaks, so it's important to realize that you may be experiencing water supply line issues when you're having constant sink issues. Most kitchen sinks will entail 2-3 water supply connections, and each of these connections can potentially result in leaks and a whole array of issues.
A lot of homeowners may not recognize these types of leaks because these connection points are primarily out of sight, and this can sometimes lead to soaked cabinets and under-sink storage areas.
When you're experiencing a loose water supply connection, the root cause may potentially be from corrosion or a failed gasket.
4. Your P-Trap Is Clogged
A P-trap is the term that is used for the curved portion of your piping that's just below your sink, and the P-trap's overall function is to make sure that foul sewer smells don't emanate into your home. P-traps are always underneath your sink and inside your cabinet, so recognizing any clogs/leaks can sometimes be difficult.
When food debris builds up within your P-trap it can lead to drainage issues that can then subsequently result in kitchen sink leaks and other plumbing repair needs. If your P-trap is noticeably corroded, then it may be necessary for a replacement to resolve your sink issues.
5. O-Ring Issues
O-rings are a lesser-known part of a faucet's handle that can commonly become damaged and result in leaks.
O-ring issues typically result over long periods of time simply due to normal wear and tear, and when an O-ring gets loose it can then lead to faucet leaks. Damaged O-rings will typically require proper replacement in order to fully resolve the issue.
6. Washers Are Worn Out
When it comes to leaking kitchen sinks, worn-out washers are undoubtedly one of the most common causes. Over time the consistent friction placed upon your washers will result in them becoming worn out, and this then leads to spout leaks.
The most common repair for these types of issues is to properly replace the washer, and it's important to note that this common cause is particularly widespread amongst compression faucets.
7. Your Valve Seat Has Become Corroded
Your sink's valve seat is a very important component in terms of providing the proper amount of compression that's needed to connect a spout and faucet, and it's rather common for valve seats to become corroded over long periods of time.
This is why it's always important to have your sink's valve seat professionally cleaned and maintained on a consistent basis, but our team will always be there for you when your valve sink needs extensive repairs or replacement as well.
Reach Out To The Beehive Plumbing Experts To Learn More About Our Sink Plumbing Repairs!
Beehive Plumbing has been helping countless home and business owners throughout Northern Utah for over 20 years, and we've continued to earn the trust of the communities we serve by always providing the very best quality and affordability with all of our services. We'll always make sure that we're making our plumbing services as affordable as possible for your unique budget, and our financing options have helped countless clients keep their payments more manageable.
So always feel free to reach out to us online or call us at 801-661-8155 today to get in touch with our team and let us know what types of sink problems you're experiencing!