Beehive Plumbing Serves Homes and Business in Davis County!
Davis County, Utah covers a wide area just north of Salt Lake City, including several popular suburbs and tourist attractions like Antelope Island State Park.
Davis County has grown exponentially in recent years; people from all over Utah and the U.S. can see how great it is to live there. The resulting population boom means that more people need homes, and those homes need high-quality plumbing services. That's where our Master Plumbers come in!
Beehive Plumbing has proudly supported Davis County home and business owners for over 20 years. We support our clients on a daily basis with plumbing repairs, installations, and replacements. We understand how tough it can be to find a reliable home or commercial plumber, so we developed this page to provide a comprehensive overview of how we can support your property.
If you're not sure whether you need a plumber or not, keep reading to learn what the red flags are and how Beehive Plumbing can fix them.
Call 24/7 (801) 256-6697 or Complete & Submit the form below:
Fill all information details to contact with us
24/7 customer service only scratches the surface of our customer care, and we make sure that all of our team members provide efficient, friendly services that are guaranteed to satisfy your necessities.
Our clients will always be the very heart of our business and the communities we serve are our family. You'll undoubtedly be treated as so much more than a valued client when working with Beehive Plumbing, and that's simply because we love what we do and have a great track record of building long-lasting relationships.
What are some of the advantages in utilizing a 24/7 plumbing service?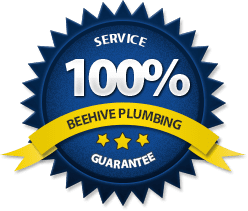 Our 100% Service Guarantee
We know customer satisfaction is the key to excellent service. We are so confident in our plumbing and drain solutions that our products and services come with a 100% satisfaction guarantee. You can count on our Utah plumbers to conduct a thorough evaluation and deliver fast, dependable service you can trust.
Be it for a home, apartment, condo or office building, we do plumbing right the first time, every time. Learn more about us, guarantees and financing. Call Now (801) 335-4265 to see how effectively and affordably we can serve your needs.
Common Signs You Need a Home or Commercial Plumber in Davis County
Common Signs You Need a Home or Commercial Plumber in Davis County
No one likes dealing with plumbing problems, but functional plumbing systems are essential to homes and businesses. The Beehive Team is here for you if you need plumbing repairs, but if you know what red flags to watch for, you can minimize costs and decrease your likelihood of significant issues.
The best way to prevent plumbing issues in your Davis County home or business is to recognize the warning signs. The more problems you know how to spot, the better equipped you are to stop minor inconveniences from becoming major problems. Some of the most common plumbing red flags include the following:
When your property experiences a sudden drop in water pressure, a less efficient shower may be the least of your problems. If you only notice lowered pressure in one fixture, the issue can be easily resolved. However, if you notice low pressure throughout your entire home or business, that could mean you have a significant leak.
If you check all of your plumbing system's visible pipes for a leak but don't find one, that means the leak is happening in an inaccessible area, such as in your water heater or behind a wall. At Beehive Plumbing, we help home and business owners pinpoint the source of the leak and thoroughly troubleshoot the issue to find solutions.
When you notice low water pressure issues, call Beehive Plumbing right away to keep the issue from getting worse. Taking quick, decisive action to find the source of the problem can help prevent major damage to your home or business!
Hidden Moisture Accumulation
Hidden moisture accumulation is often highly difficult to detect, but it's a significant red flag for plumbing issues. Moisture accumulation is a common symptom of leaks, faulty fixtures, and faulty pipe joints.
Consistently check for damp spots behind your appliances, in corners, and underneath sinks. You should also check your ceiling, walls, tiles, and carpeting for wet, discolored-looking spots.
If your Davis County property has a basement, you need to be especially careful to detect leaks in time. This type of prevention strategy is important for countless homes and businesses in northern Utah, because spotting moisture accumulation can help you avoid significant property damages, mold development, and structural problems within your property's foundation.
Sudden Spikes in Your Water Bills
If you're noticing that your water bills are much higher than they usually are (and your water habits haven't changed), then it's a sign that something is wrong within your plumbing system. Water bill spikes are often how property owners first realize that they need professional plumbing assistance, and they're a common indicator of multiple different plumbing problems.
The good news is that our experienced plumbing professionals will be able to help you better understand why your water bills have increased. We'll get to the source of the problem and find a solution as efficiently as possible!
Foul Odors Coming From Your Drains
Every residential and commercial property is specifically designed to prevent your home or business from smelling like sewage inside. Because plumbing systems are designed to keep bad smells out of your property, the smell of sewage is a serious red flag that you need plumbing repairs.
Although there are some scenarios in which eliminating the odors could only require a basic trap replacement, there are other more serious plumbing issues that also need to be considered.
Strange Green Patches in Your Yard
Another common plumbing red flag is a patch of grass that looks longer, thicker, and greener than the rest of your yard. Abnormally lush patches of grass usually indicate a waterline leak. Because a waterline leak can waste a lot of your water in a short amount of time, make sure to call Beehive Plumbing as soon as you notice it.
Our Master Plumbers have decades of experience with repairing water and sewer line leaks. We're also well-equipped with the industry's latest technology to make these types of repairs more affordable for our customers. We use pipe inspection cameras and pipe lining technology to pinpoint the source of the leak and have it resolved within a matter of hours!
Most Common Plumbing Issues For Davis County Home and Business Owners
Most Common Plumbing Issues For Davis County Home and Business Owners
Although property owners in Davis County experience all sorts of plumbing problems on a consistent basis, the following are the most common:
Dripping faucets can slowly but surely waste a ton of water, and these issues are typically connected to worn-out O-rings or washers that need to be replaced.
Many northern Utah properties experience this issue due to corrosion caused by hard water, so it's important to get your faucets diagnosed by our professionals when you notice a dripping faucet.
Leaky pipes are caused by plenty of issues, including:
Pipe joint damage
Stubborn clogs
Pipe corrosion
Improperly laid pipes
Cracked pipes or seals
Excessive water pressure
No matter what causes your leaky pipes, you need to address this plumbing issue as quickly as possible!
Running toilets are incredibly wasteful; they can waste 200 gallons a day or more! The following issues can cause running toilets:
Worn-out flapper seals/flush valves
Refill tube issues
Corroded toilet handles
Improper flapper chain sizes
Draining issues are always serious, and properties throughout Davis County often require professional drain cleaning to fully resolve their drain problems. Although these issues can often occur due to hair and soap scum accumulation, there are also plenty of sewage backup issues that contribute to slow or clogged drains.
A lot of properties in northern Utah have sump pumps to protect them from flooding and other external property issues, so it's a big problem when your sump pump suddenly stops working.
Our team at Beehive Plumbing includes several sump pump specialists. These specialists can quickly diagnose and repair your sump pump so it's back to normal functionality as soon as possible!
Water Heater Repairs & Replacements
Every home and business in Davis County needs hot water, so it's a pretty significant issue when you need a water heater repair or replacement.
The following issues typically cause water heater problems:
Heating element failures
Sediment or corrosion buildup
Improper water heater installation
Broken electrical connections
The system is the wrong type or size for the property
And more
Our team of master plumbers wants all homeowners in the Bluffdale area to better understand the signs of needing a water heater repair, so the following are things you should look out for:
No hot water
Inadequate hot water
Strange noises
Leaks
Age
Contact The Beehive Plumbing Team When You Need Plumbers in Davis County, Utah!
Beehive Plumbing is proud to be Davis County's go-to plumbing team for residential and commercial plumbing services. We've supported the northern Utah region for over 20 years. When something goes wrong with your home or business's plumbing system, our team is here to support you.
We offer 100% customer satisfaction guarantees for all of our products and services, and we've become a top plumbing provider in the region through our commitment to providing an unparalleled combination of top-quality services and customer care.
Beehive Plumbing also offers 24/7 emergency plumbing services. That means if you have a plumbing emergency late at night, we'll be there to help. We always have at least one plumber on call in Davis County, which means you can trust us to show up quickly no matter what time your plumbing emergency occurs.
Contact us online or give us a call at 801-661-8155 to learn more about what we can do for Davis County residents!
Plumbing problems can be major inconveniences for business owners, and these issues can even have negative impacts on sales. If you are experiencing a plumbing issue within your business then you owe it to your customers and overall business plan to act quickly.
We offer an entire team of reliable, skilled commercial plumbers in West Valley, and our experience ranges from the types of plumbing services that every big or small business faces from time to time.
The following are a few of the more common commercial plumbing issues we face:
Leaky fixtures and pipes
Clogged toilets or drains
Issues with hot water