You can always count on us to show up at your home or business when a plumbing emergency arises at any hour of the day, and we pride ourselves on being there for our clients when they need us most.
Our 24/7 emergency plumbing services are just another reason why Beehive Plumbing is a go-to source for all of your plumbing necessities within the Kaysville area, and the following are some of the more frequent 24/7 plumbing situations we come across: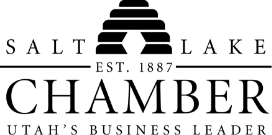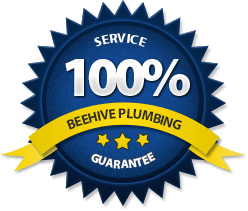 Take Advantage of

24/7 Plumbing
When you and your home are in the middle of a plumbing emergency where water is pouring out of fixtures or pipes and it seems like Armageddon has arrived, there is a lot of solace in knowing that Beehive Plumbing can provide very quick and efficient services. It's essential to our business to be there for clients when they need us the most, which is why we make sure our specialists arrive promptly with the proper equipment that's necessary to not only identify the issue, but also properly correct the problem before the issues worsen.
One of the worst parts of water damage beyond it being able to destroy a variety of household items is its ability to build mold and mildew formations underneath your flooring. Mold can flourish rather quickly in certain conditions like a flooded basement, so by going through a 24/7 plumbing service like Beehive's you'll be able to minimize the amount of water damage a plumbing emergency creates.
It may initially seem like a 24/7 plumbing service job will cost you more than routine repairs, but when it comes down to it you'll end up saving a ton of money when you can eliminate your restoration costs when not hiring a 24/7 plumber in times of imminent emergencies.
It's important for everyone to simply know that they have Beehive Plumbing ready to help them at all times, and when you work with us you'll be calling a specialist's direct line. All of our specialists are experts who can fix your emergency issues swiftly and efficiently, so instead of panic-dialing when a problem arises you can be rest assured that we'll be there when you need us.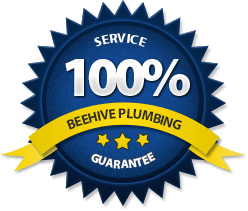 Our 100% Service Guarantee
We know customer satisfaction is the key to excellent service. We are so confident in our plumbing and drain solutions that our products and services come with a 100% satisfaction guarantee. You can count on our Utah plumbers to conduct a thorough evaluation and deliver fast, dependable service you can trust.
Be it for a home, apartment, condo or office building, we do plumbing right the first time, every time. Learn more about us, guarantees and financing. Call Now (801) 546-5357 to see how effectively and affordably we can serve your needs.
Our Premier Plumbing and Drain Services Include these Benefits
There are a few reasons why this could be happening in your bathroom, but you should always turn off your water flow immediately no matter what is causing your toilet to overflow. Water flow must be shut off for us to address the clog or mechanical failure, and we'll make sure to help you turn your water off while you're on the phone with us if you're having any trouble. There are a lot of different magnitudes of clogged toilets, but the more severe issues will require the use of an auger, or drain snake. We'll be able to use these professional plumbing devices to fish out the debris and regain proper water flow within your toilet's sewage system.

Drainage problems are something that no one should ever underestimate. Slow drains may seem rather miniscule, but it can lead to much bigger plumbing issues if not properly addressed at its beginning stages. There is a whole array of issues that slow drains may indicate, including early clogs, general buildup in pipes, or even improper drainage system grading. When you call our professional team to come to your home or business at the first signs of slow drains you'll be putting yourself in a much better position to have us easily pinpoint the source of the issue and have it properly corrected before things start to get worse.
When you're experiencing persistent sewage smells it's a clear sign that you need to have us come check out what's going on, and the big problem here is that the smell can be an indication that you have a pretty intense drainage issue. We'll be able to provide you with an expert assessment of the situation as quickly as possible, and we'll be able to decipher if thorough drain cleaning will get the job done or if you potentially need to replace your sewer pipes.
Many bathroom drains and sinks will be prone to those pesky clogs that just simply won't go away, and it's typically due to the accumulation of hair that's been washed down the drain over long periods of time. If you are frequently pulling out the hair within your drain then you're more than likely not fully removing a more serious clog. In any kind of situation like this it's always best to contact the experts at Beehive Plumbing to utilize their professional tools to ultimately eliminate the clogs that are residing deep within your drains for good!
If your pilot light is efficiently working and you're still not getting hot water then you're more than likely undergoing a much more serious issue that requires our expertise for help. We all love having warm showers and warm water in general for a variety of household tasks, so getting this type of issue solved as quickly as possible is always best. When your home consistently runs out of hot water it can be a rather frustrating situation, and there are a few different issues that can cause this type of problem. It could be an issue with the thermostat or the overall size of your water heater.
Water Temperature Not Perfect
It's difficult when your water is consistently either too hot or too cold, and this could simply be an issue with your water heater's thermostat. But, it can also mean that you have a faulty thermostat that needs maintenance, or that you could be dealing with a sediment buildup that's inhibiting your tank. When you call us we'll be able to provide a professional assessment of the situation and get to the source of the issue so you can always get the perfect water temperature.
Common

Water Heater Repairs
The first step with fixing a leaking pipe is locating the source, and there are many situations that always necessitate the expertise of a professional plumber to come to your home and not only locate the leak, but effectively seal it for good.
We offer a 6-year parts and labor guarantee on any water heater replacements we provide, and our team of experts can also repair just about any type of water heater issue as well. The following are some of the more common types of water heater issues we see on a regular basis:
Our Master Plumbers have the abilities to offer their expertise and services for all types of drain and sewer line maintenance, and we pride ourselves on getting the job done right the first time, every time. The following are 5 warning signs we want everyone to be aware of that could indicate you need our sewer/drain services ASAP
This is a pretty messy plumbing emergency that always requires the assistance of professional expertise. There are a variety of issues that can result from not monitoring your sump pump on a regular basis over a long period of time, but by utilizing one of Beehive Plumbing's experts you'll undoubtedly get to the source of the issue and have your sump pump properly functioning very quickly.
Our team of master plumbers wants all homeowners in the Kaysville area to better understand the signs of needing a water heater repair, so the following are things you should look out for:
Contact Us Today For Our Expert Drain & Plumbing Services in Kaysville!
We know how important it is for home and business owners alike in Kaysville to have a reliable plumbing company in their contacts just in case something comes up and they need our professional assistance.
So give us a call today at (801) 546-5357 and we'll be able to go over your issue and get an expert out to you as quickly as possible to provide an estimate on your necessary project/tasks.
Also feel free to call us when an emergency comes at an obscure time of day and we'll get one of our team members out to you ASAP!
All of our plumbers are experienced and well equipped to handle any kind of commercial plumbing or drain service tasks that are required within the Kaysville area. Over the years we've been able to prove ourselves as one of the most trusted sources for small and large businesses, and we're confident that we can be your business' go-to source for plumbing problems and general maintenance. Some of the more common types of commercial plumbing issues we see on a regular basis include:
Leaky fixtures and pipes
Clogged toilets or drains
Hot water problems
There's no doubt about it that there's a lot at stake when it comes to commercial plumbing, and that's because plumbing problems can draw customers away from a business and hurt a company's local reputation. That's exactly why you should contact Beehive Plumbing immediately when you come across any signs of plumbing issues within your business property, and we'll be ready to get on it right away so you can prove to your customers how much you care about their safety and the overall cleanliness of your building.
We're the
Solution

to any and all plumbing or drain problems,

24/7

in Utah