Emergency Plumber in Salt Lake City
Plumbing emergencies can happen when you least expect it, which is why you need a trusted emergency plumber!
Beehive Plumbing is a team that you can always trust to handle all your plumbing emergency needs. Plumbing emergencies when not dealt with immediately can cause a lot of unwanted damage. This is why we respond quickly to all emergency calls, regardless of the time of day or night.
In order to deliver the best emergency services to you, we are open 24 hours a day, 7 days a week throughout the year. We are always skilled, punctual, and well equipped to handle all plumbing emergencies. You can trust us!
Our 24/7 emergency services are very pocket-friendly and we refuse to take advantage of your situation in overcharging you. Your Beehive Plumber is the most trusted emergency service provider in Salt Lake City and the surrounding areas.
If you are looking for a plumber who will be there for you during an emergency, look no further because Beehive Plumbing is here! We understand that plumbing emergencies can happen at the most inconvenient of times. Whether you are a commercial or residential client, we have got you covered and promise excellent expert and professional service delivery that will protect your home or business from extreme damages. Some of the jobs you might consider calling our emergency plumbing service for include:
Flooding
If your home or business is flooded, we probably don't have to tell you that you're in an emergency situation. Not only can flooding cause extreme property damage, but it can also be seriously dangerous when the water interacts with electric wiring and appliances.

We will come out and fix the plumbing problem that led to the flood. This will immediately stop the problem from worsening. Common causes include clogged toilets, sewer backups, broken or burst pipes, leaking water heaters or water softeners.

Whatever has caused your flood to occur, we will get to the bottom of it fast. We won't just fix the problem, we'll help you take practical steps to ensure it never happens again.
Broken water heater
We often take hot water for granted. That's until we don't have it, of course! When a water heater breaks, it can constitute an emergency. There are many signs that your water heater might be failing. Leaks are one obvious sign, but you might also notice that you're running out of hot water much quicker than usual.

Another early warning sign is that your water temperature is inconsistent, your water is discolored, or you're hearing unusual noises from your heater. If your water heater breaks down unexpectedly, feel free to contact Beehive Plumbing. We'll help you determine whether a repair or a replacement is required.
Burst sewer line
Any kind of burst pipe is a problem, but a burst sewer line is especially problematic. Sewage leakage quickly leads to very unsanitary conditions. Contamination can cause illness too, so any sewage on your property should be treated as an emergency situation.

When we arrive at your property, our first priority will be to stop the flow of sewer water. We will then perform a thorough repair or replacement.

Some of the most common causes include a clog, rusted pipes, poorly installed pipes or fixtures, punctures, or adverse environmental conditions. A broken sewer line can also be caused by back-pitch due to ground settlement, when a pipe slopes in the wrong direction.
Burst water main
Your water main is the pipe that brings water from the community supply directly to your home. When this bursts, you lose access to your water supply. This counts as an emergency situation!

A burst water main could result in serious waste of water, and it could also cause property damage. Call us out as soon as you suspect that your water main has a problem.

When your water main bursts, you can expect the following: changes in water pressure, water discoloration, strange sounds, and increased water bills. Getting your water main repaired or replaced will save you money in the long term.
Clogged toilet
Everyone needs access to a functioning toilet. If yours is clogged, you should contact our emergency plumbing service to restore it to working condition.

A clogged toilet has the potential to back up, causing sewage to spill over onto the property. This is obviously a very unsanitary state of affairs. Avoid this from occurring by calling for support as soon as you notice a clog in your toilet.

A severe clog in your toilet has the potential to affect your entire plumbing system. This is why the issue shouldn't be ignored. The longer you leave it, the worse it will get. This isn't a problem that will resolve itself!
Leaking pipes
A leaking pipe on your property can be very stressful. The first step you should take is to see if you're able to isolate the issue by turning off the water supply. Of course, you can't stay very long without water! Thankfully, Beehive Plumbing offers an emergency service to provide immediate repairs or replacements as required.

When a pipe is leaking, water is being wasted. This is very unfortunate environmentally, especially given the droughts suffered in our local area. It can also have an adverse economic impact: you can expect to pay a significantly higher water bill if you allow the issue to worsen.
Leaking faucets
A leaking faucet doesn't seem like an emergency; after all, the water is being contained in the sink. However, wasting water in this way has bad effects on the environment and on your wallet. You don't want to pay a higher water bill just for water to be wasted!

This issue is also one of the most irritating plumbing issues you can endure. Ask anyone who has had to suffer a night of dripping sounds due to a broken faucet. Thankfully, it's a pretty easy fix. There are a few common causes of leaking faucets, such as worn down washers, that we can address very quickly.
Overflowing toilets
Have you ever flushed your toilet and it has immediately started to overflow? It's a nightmare scenario for most, and even more so when it occurs in the middle of the night.

A toilet might start to overflow if you try to flush too much waste or toilet paper at one time. It also occurs when someone uses the toilet to dispose of non-flushable items such as sanitary products, cotton wool, or diapers. Kitchen waste shouldn't be thrown down the toilet, either.

Utah customers that have suffered from overflowing toilets are delighted that an affordable emergency service exists. They know who to call—Beehive Plumbing! Our emergency plumbers will resolve the issue and provide invaluable advice so it doesn't happen again.
Clogged bathroom and kitchen drains
Over time, you might notice that your kitchen sink is slower to drain than usual. The same might occur in your shower, tub, or bathroom sink. This is a sign that your drains are blocked in some way. There are quick fixes available in home-related retail stores, but it's always smart to involve a professional when the issue pertains to your drains.

We will identify where the blockage is, and we'll unclog your drains, performing any repairs to the pipes that are required. You can count on Beehive Plumbing to have your bathroom and kitchen functioning as normal as quickly as possible.
Burst washing machine
Has the hose burst on your washing machine? This is a stressful situation because water is undoubtedly spilling out all over your property. To prevent damage, isolate the leak as quickly as possible. Then, call our emergency plumbers. We will be happy to perform a full repair so you can feel confident using your washing machine again.

It may be that some of your washing machine's fixtures and fittings require replacement as opposed to just repair. If that's the case, we'll be able to advise you of the best path to take. You can trust our experienced and qualified professional plumbers to steer you in the right direction.

We will fix any emergency issue as fast as we can. We are clean, prompt, professional, and only just a phone call away. Do not wait for that flood to damage your walls and the foundation of your house. Reach out to us today so that we can save your home or business.
Financing Emergency Plumbing Work
Emergencies are unexpected by definition. For that reason, it's highly possible that you haven't accommodated a plumbing repair in your monthly budget.
That doesn't mean you have to ignore the issue and let it worsen, however. To do so would make poor financial sense: you'd undoubtedly end up paying more at a later date to resolve a more serious problem
Instead, use our financing solution. We are able to offer flexible payment options for people who would prefer to spread the cost of their plumbing service.
Although our rates are always reasonable, you might find it more financially viable to pay over a longer period. We understand that, which is why we're proud to make our emergency plumbing service more accessible through financing.
You can apply for financing through our website, and you'll find the process surprisingly easy!
Why Trust Beehive With Your Plumbing Emergencies?
In Salt Lake City and the surrounding Utah area, Beehive Plumbing has an immaculate reputation as a dependable and high quality plumbing solution.
We have earned this reputation through years of providing consistently excellent customer service. It's a reputation that we take seriously, and we maintain this by applying our full attention to every job, whether big or small, urgent or otherwise.
When you hire our team, you can expect the highest standards of professionalism at all times. Our team is trustworthy and has a transparent approach. Lines of communication are completely open, so we're happy to answer any questions you may have about our process.
Our emergency service is available 24 hours a day, 7 days a week. It doesn't matter if you call us out in the middle of the night or on a national holiday. When a plumbing emergency strikes, it requires immediate action. Beehive Plumbing won't delay in providing the support you need.

Commercial Plumbing Emergencies
Beehive Plumbing has a long history of helping local businesses with their plumbing emergencies.We are familiar with the legal requirements of our municipality, so we're able to ensure that your commercial buildings remain up to code.

When your company experiences a plumbing issue, we'll minimize disruption to business operations by attending the scene as quickly as possible and performing a full repair.

As a local business, we are proud to have great relationships with other local businesses in the Utah area.
24/7 Plumbing Services
You can count on our 24-hour emergency plumbing services to deal with any emergency in as little time as possible. We work fast because we know that you have the right to experience the best, affordable and fast plumbing repair available to you.

Your trusted Plumber Beehive enjoys working with you and we promise safety in service delivery, even at night. Because we are your local plumbing company, we understand our community and will always have your security in mind when responding to your emergency.
What to Do In case Of a Plumbing Emergency

1. Call us
Remember we are prepared and ready to be there for you in case of emergencies. Our services are available 24/7. Do not hesitate to call!

2. Turn off the valves
Check to see if there is a water valve open, and shut it off.

3. Open your drains
Water might be trapped in the pipes. To help, be sure to open all of your drains.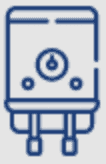 4. Check on your water heater
It is good to turn your water heater off in order to try to avoid any damage done to it. For electric heaters, shut off the valves first before turning it completely off to avoid complications. Do the reverse for gas heaters.
Don't panic. Help is on the way!