Plumbing Near West Jordan, UT
Beehive Plumbing provides top-notch residential and commercial plumbing services in West Jordan, Utah, plus other areas such as Bountiful, Davis, Salt Lake, and Tooele.
At Beehive, we ensure top-notch service provided by experienced plumbers equipped with cutting-edge skills and techniques in the industry.
Call 24/7 (801) 256-6697 or Complete & Submit the form below:
Fill all information details to contact with us
24/7 customer service only scratches the surface of our customer care, and we make sure that all of our team members provide efficient, friendly services that are guaranteed to satisfy your necessities.
Our clients will always be the very heart of our business and the communities we serve are our family. You'll undoubtedly be treated as so much more than a valued client when working with Beehive Plumbing, and that's simply because we love what we do and have a great track record of building long-lasting relationships.
What are some of the advantages in utilizing a 24/7 plumbing service?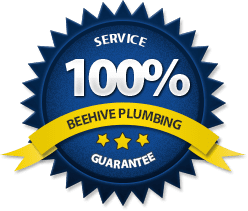 Our 100% Service Guarantee
We know customer satisfaction is the key to excellent service. We are so confident in our plumbing and drain solutions that our products and services come with a 100% satisfaction guarantee. You can count on our Utah plumbers to conduct a thorough evaluation and deliver fast, dependable service you can trust.
Be it for a home, apartment, condo or office building, we do plumbing right the first time, every time. Learn more about us, guarantees and financing. Call Now (801) 335-4265 to see how effectively and affordably we can serve your needs.
24-Hour Plumbing Services
We understand how inconvenient it can be for home and business owners to deal with plumbing issues. Clogged sinks and leaky pipes are more than just an inconvenience; if left unaddressed, they can become a major disruption to your daily life. That's why Beehive Plumbing provides 24-hour emergency plumbing services. We're here to help you out at any time of the day. Regardless of the size or complexity of the problem, we've got you covered.
Our team of plumbing experts is available 24 hours a day, 7 days a week so we can quickly address any and all emergency situations. Whether you have a fractured faucet, ruptured pipe, or clogged sewer line, our team of highly skilled professionals is well-equipped with the proper tools needed for every problem. This means we provide efficient, professional plumbing services no matter what time of day or night they occur.
Why do we offer this? Because at Beehive Plumbing, we recognize the anxiety and disorder that can come with plumbing catastrophes. That's why our mission is to offer rapid and dependable solutions.
We are devoted to providing you with a fully functioning plumbing system as soon as possible, no matter what it takes. So when things don't go according to plan in your home or office space, rely on us.
Services We Offer in West Jordan
At Beehive Plumbing, our experienced technicians are equipped to tackle anything from the most straightforward plumbing projects to those that require careful planning. We provide a wide variety of services in the West Jordan Area.
Our plumbers are experts at installing, repairing, and maintaining all sorts of plumbing devices, including faucets, pipes, sinks, showers, and toilets. With years of experience behind us, we have the necessary skills to provide superior service at an unbeatable price.
We can also help you find the perfect water heater to use in your home or business. Once we help you make an informed decision on what you need, we perform installations, repairs, and maintenance services. We also offer professional assistance in transitioning from a conventional system to an energy-saving tankless water heater.
Our team of experts can also take care of all your drain-cleaning needs. We are equipped with the latest technology to identify and solve any drainage issue before it can cause serious damage. From a clogged kitchen sink to an obstructed toilet, you can trust us to get it cleared out quickly!
When you need reliable sewer services, we can help with the repair, replacement, and upkeep of sewer lines. We offer a range of quality solutions, including trenchless repair, hydro jetting, and camera inspections.
Our top-of-the-line leak detection technology can help you put a stop to expensive water bills and ugly water damage. Not only will we detect any potential undetected leaks, but we will also repair them for you. Rest assured knowing your property is completely safe from unexpected damages in the future.
Beehive Plumbing goes beyond maintenance and installations; we are also a trustworthy provider of bathroom and kitchen remodeling services. From planning to execution, we will help you every step of the way as you make your home or business more functional. We will also ensure that each project meets our meticulous standards while staying on-budget and on-schedule.
Our team combines impressive aptitude with vast expertise, making us the obvious choice when it comes to all aspects of home renovations!
We understand how inconvenient and disheartening plumbing concerns can be, especially when you are working to add value to your home. Thanks to our 24/7 services, our plumbers are always available to tackle any type of plumbing issue your house or business might experience. We offer immediate, dependable, and enduring solutions for all kinds of problems.
Beehive Plumbing offers everything from basic faucet repair to extensive kitchen or bathroom renovation projects. No matter what it is you need, you can rest assured that our team will get the job done efficiently, professionally, and cost-effectively.
Home vs. Commercial Plumbing Services
At Beehive Plumbing, we offer top-of-the-line commercial plumbing services. Residential and commercial plumbing services share some commonalities, including installation, repair, and maintenance services, but there are some things businesses need that homeowners don't.
From single-family homes to townhouses, residential plumbing services are in charge of keeping all the piping systems running smoothly for you and your loved ones. This usually entails a few kitchens, baths, and laundry rooms that require regular check-ups, emergency repairs, or fixture installations.
In contrast, commercial plumbing works with expansive and intricate systems developed to accommodate high water usage. That's because commercial spaces are usually very big. Oftentimes, these services involve setting up extensive and sophisticated plumbing designs in structures including restaurants, malls, workplaces, and hotels. Such commercial networks encompass water supply lines, backflow prevention measures, and complex drainage infrastructure.
Commercial plumbers are also responsible for setting up fire suppression equipment, gas lines, and other intricate systems that must align with strict regulations in terms of safety and health codes. Because of this, periodic inspections may be administered to ensure all requirements are being observed.
If you're a business owner, you need to run your business, not fix the toilets. Our knowledgeable plumbers are equipped with top-of-the-line tools and technology so that we can provide dependable, efficient, and long-lasting solutions for your business.
At Beehive Plumbing, we understand the value of dependable and long-term plumbing solutions. That's why we continuously utilize advanced technologies and equipment to guarantee our customers receive exceptional service. With us, you can be confident that your project will be completed with top quality standards in mind.
Our plumbers are highly trained and certified in the use of cutting-edge tools and techniques to complete their work quickly, accurately, and efficiently. We remain informed on emerging plumbing technologies so we can offer our customers effective solutions for any job. From standard fixture installations to intricate commercial pipe systems, our skilled experts have the expertise needed to accomplish every check-up, repair, and installation.
Our priority is ensuring that your plumbing system continues to run smoothly, which is why we offer both preventive maintenance plans and emergency services. With our preventive maintenance plans, we can diagnose any potential issues before they cause expensive disruptions or damages.
At Beehive Plumbing, customer care is our top priority. As a locally owned and operated company, we prioritize the quality of our work because our customers are our neighbors and friends.
Because we live, work, and have loved ones in this community, we are personally invested in going above and beyond on every project, and we take pride in all that we do.
We believe in transparency and honesty with our clients, which is why we provide upfront estimates and stand by our pricing agreement. We value our customers' satisfaction above everything else, and you can always count on us to prioritize your needs every step of the way. Give us a call and experience our exceptional plumbing services today.
Our team of master plumbers wants all homeowners in the Bluffdale area to better understand the signs of needing a water heater repair, so the following are things you should look out for:
No hot water
Inadequate hot water
Strange noises
Leaks
Age
The professionals at Beehive Plumbing are honored to be considered one of the most dependable and reliable plumbing companies in the West Jordan region. We pledge to deliver superior services to our neighborhood, and we're here 24/7 for all your plumbing necessities!
We know how plumbing difficulties can be overwhelming and interfere with your daily routine; that's why we are available all day, every day, to make sure you get what you need.
If you're in need of dependable plumbing services, Beehive Plumbing is the answer! To learn more about our company and how we can be of service to you, call us today or visit our website and fill out the submission form. We want to help make your plumbing woes a thing of the past!
Plumbing problems can be major inconveniences for business owners, and these issues can even have negative impacts on sales. If you are experiencing a plumbing issue within your business then you owe it to your customers and overall business plan to act quickly.
We offer an entire team of reliable, skilled commercial plumbers in West Valley, and our experience ranges from the types of plumbing services that every big or small business faces from time to time.
The following are a few of the more common commercial plumbing issues we face:
Leaky fixtures and pipes
Clogged toilets or drains
Issues with hot water