Plumbing Near
Bluffdale, UT
All of us at Beehive Plumbing are proud to be one of Bluffdale, Utah's most trusted sources for plumbing and drain services of all types. We are more than confident that our team of experienced professional plumbers and technicians will be readily available to handle any of your home or business' plumbing necessities with the utmost attention to quality results.
We are here in Bluffdale to be the one-stop shop for all plumbing services to home and business owners throughout the area, and since our beginnings in 1999 we have been able to build an impeccable team of Master Plumbers who have proven themselves throughout the industry in terms of always being able to guarantee lasting results.
We offer round the clock plumbing services to both residential and commercial clients, and we strive everyday to satisfy our clients' needs while continuously building our relationships among all of our locations throughout Utah. Beehive Plumbing has been able to skyrocket in popularity over the years because we've ensured that our staff is highly trained to handle literally any kind of plumbing issue imaginable, and we also equip all our employees with the most cutting edge technology in the industry.
In this page we are going to go into what exactly sets Beehive apart from all of the other plumbing companies within Bluffdale, Utah; and we'll also discuss the 5 main types of plumbing services we typically provide our clients.
Call 24/7 (801) 335-4265 or Complete & Submit the form below:
Fill all information details to contact with us
24/7 customer service only scratches the surface of our customer care, and we make sure that all of our team members provide efficient, friendly services that are guaranteed to satisfy your necessities.
Our clients will always be the very heart of our business and the communities we serve are our family. You'll undoubtedly be treated as so much more than a valued client when working with Beehive Plumbing, and that's simply because we love what we do and have a great track record of building long-lasting relationships.
What are some of the advantages in utilizing a 24/7 plumbing service?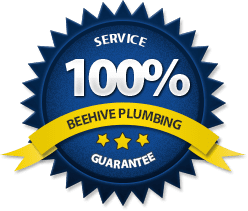 Our 100% Service Guarantee
We know customer satisfaction is the key to excellent service. We are so confident in our plumbing and drain solutions that our products and services come with a 100% satisfaction guarantee. You can count on our Utah plumbers to conduct a thorough evaluation and deliver fast, dependable service you can trust.
Be it for a home, apartment, condo or office building, we do plumbing right the first time, every time. Learn more about us, guarantees and financing. Call Now (801) 335-4265 to see how effectively and affordably we can serve your needs.
Our Premier Plumbing and Drain Services Include these Benefits
Our Premier Plumbing and Drain Services Include these Benefits
All plumbing challenges are frustrating, but if they aren't dealt with promptly they can build and become much worse and expensive to repair. It's never a good idea to wait on fixing any plumbing problem, which is why you should always give us a call as soon as you see any warning signs of plumbing problems appear throughout your home or business. Beehive Plumbing is considered to be one of the most trusted companies throughout the Bluffdale area, and this is because of our track record in providing only the very best services from our industry-leading team of experts.
Plumbing Maintenance, Repair and Replacement Services
These types of plumbing services are what our team has been doing for decades, so you can rest easy knowing that a world-class plumber or technician is coming to you when you come across a pesky plumbing issue at your home or business. We offer an entire array of plumbing services, and some of the main services we provide include the following:
Our team is well trained and equipped to handle any kind of plumbing related installation job, and we always give advice to our clients in terms of what the latest equipment and technology on the market is so you can know what's out there. But no matter what you're going to always get the very best service from us. Our use of the latest advancements in the industry's technology is part of what sets us apart with plumbing related installations, but that's just the cherry on top of our team's decades of experience.
Beehive Plumbing has decades of remodeling experience, and we have made valiant efforts to ensure that we are your one-stop shop for all your remodeling necessities. You can always count on us to help you change the look of your bathroom or kitchen, and we know exactly how to work as a team with other contractors to ensure everything is done properly and on time with your remodeling project's budget. We honor you and your contractor's time and always stick to our estimates, and some of our more common remodeling services include: Residential remodeling — This includes helping install new bathtubs, sinks, toilets, faucets, walk-in showers and so much more. Commercial remodeling — This type of remodeling pertains to anything that our business property clients may require.
We've come across countless cases of flooding because it is after all one of the leading causes of all plumbing emergency calls. The effects of any kind of interior flooding can be catastrophic, which is why it needs to be addressed as quickly as possible by our team. We have all the tools and expertise necessary to handle fixing any kind of flooding situation, and we can also help you out after the flood is cleaned up and repaired in terms of making sure your property is safe of any bacteria buildups.
Why Work with Beehive Plumbing?
There are countless reasons why Beehive Plumbing is the #1 plumbing services option in Bluffdale and all across the great state of Utah, and you can always be sure to receive the following when hiring us:
Affordable, competitive rates
Financing options that fit every budget
100% customer satisfaction guarantee
Efficient, friendly, professional services
24/7 emergency plumbing response
Privacy and expertise
Free consultations and estimates
And so much more!
Our team of master plumbers wants all homeowners in the Bluffdale area to better understand the signs of needing a water heater repair, so the following are things you should look out for:
No hot water
Inadequate hot water
Strange noises
Leaks
Age
Contact Us Today to Learn More About Our Expert Plumbing Services in Bluffdale!
We hope that this page helps home and business owners in Bluffdale better understand what it is that makes being a part of the Beehive Plumbing family so special.
We consistently strive to be the very best plumbing services provider within all of our Utah locations, so contact us today by calling our 24/7 line at (801) 335-4265 with any questions or concerns you may have.
Plumbing problems can be major inconveniences for business owners, and these issues can even have negative impacts on sales. If you are experiencing a plumbing issue within your business then you owe it to your customers and overall business plan to act quickly.
We offer an entire team of reliable, skilled commercial plumbers in West Valley, and our experience ranges from the types of plumbing services that every big or small business faces from time to time.
The following are a few of the more common commercial plumbing issues we face:
Leaky fixtures and pipes
Clogged toilets or drains
Issues with hot water