We've helped countless commercial properties through our comprehensive urinal services, so here are some of our expert tips to keep in mind!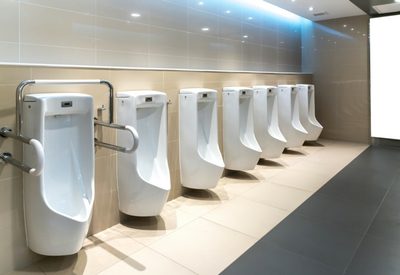 When you're in the process of purchasing urinals for your business or commercial property of any kind, then you'll undoubtedly have several important factors that you'll need to keep in mind to make the most out of these commercial plumbing investments.
Beehive Plumbing has been a commercial plumbing leader throughout Northern Utah for over 20 years, and we've helped countless properties through our comprehensive urinal services. We also understand just how stressful it can be for building owners and managers to narrow down their best options when it comes to urinals, so what we've done is compile this list of shopping factors that you should keep in mind while preparing your next urinal investments!
1. Urinal Sizes
Size is certainly one of the biggest considerations to keep in mind during your urinal search, and this is often overlooked because most people simply assume that all urinals are generally the same size. We all know that urinals are meant to save space as compared to toilets, but they do come in a whole variety of sizes and shapes. This is why you should always conduct thorough measurements of your bathroom space at the beginning of your search for new urinals.
Whether you're purchasing urinals for commercial spaces or residential bathrooms, you'll have to keep your own specifications and needs in mind when deciphering which size will be best for you.
2. Urinal Costs
Urinal prices are similar to bidets and toilets, so you can expect to see cheaper options around $100 and more expensive urinals of over $1,000. Certain efficiency features will play a role in developing upfront costs, but they'll often pay for themselves over long periods of time. There are also convenient features like automatic flushes that'll play a role in urinal price as well.
Brand design and reputation also make a difference for urinal costs, and our plumbing specialists will help guide you through this vast industry to help you better understand what the best options are for your budget.
3. Flush Options
There will be a few different features to choose from when you want a flush urinal, and these days more commercial properties are investing in handless flush urinals as a sanitary solution. These urinals will feature a sensor that lets them know when a user has finished up, or they'll utilize a timer that automatically flushes the urinal at specific intervals.
These automatic flush features will always go a long way in keeping a commercial bathroom much cleaner, and they'll also provide you with peace of mind knowing that your bathroom users aren't coming in contact with germs when they flush.
4. Urinal Aesthetics
Although aesthetics aren't always a top concern for a lot of people, it's safe to say that urinals will come in a whole variety of different styles and designs to choose from. If it is important for your bathroom to feature nice-looking urinals, then you'll surely have a lot of options to choose from.
A lot of people love sleek, minimal designs that help develop a modern décor. Aesthetics are always a subjective part of this investment process, but you can count on our plumbing experts to take the time with you so you're properly browsing through your preferred styles.
5. Cleaning
Every urinal needs to be cleaned, so ease of cleaning is an important factor to keep in mind when making these types of plumbing investments. Waterless urinals will need cleaning on a more frequent basis as compared to flush urinals.
Design and shape will also play a role in terms of how easy it is to clean a urinal, because it's possible that there may be crevices and tough spots to reach. There's no denying that cleaning is one of the most stressful parts of owning urinals, so you should keep cleaning in mind while you're making your final investment decisions.
6. Urinal Installations
You'll generally have two options to choose from when it comes to urinal installation options, including floor-mounted and wall-mounted urinals.
Wall-mounted urinals are very popular because they're smaller and leave more floor space. Floor-mounted urinals are installed directly into your bathroom's floor.
If you're replacing your existing urinals, then you'll likely have an easier time if you choose the same type of urinal. However, our team will always be there for you when you want to make a change to your plumbing connections.
7. Water Usage
Water efficiency is always a major concern throughout the entire urinal industry, and this is partly because many commercial properties want to save on water usage through their urinals. You'll of course have the waterless urinal to choose from that uses little to no water at all, and there are also several flush urinals that are designed for energy efficiency.
Gallons per flush (GPF) is a huge metric to keep in mind when you're browsing for energy-efficient flush urinals, and most GPFs range from .125-1.0 GPF. It's also a good idea to consider WaterSense Certified urinals, which generally feature a very low GPF. WaterSense is a program through the EPA that'll help urinal investors better know that they're purchasing a plumbing product that has gone through rigorous testing.
Reach Out To Beehive Plumbing To Learn More About Our Urinal Services!
Beehive Plumbing is a commercial plumbing leader throughout all of Northern Utah, and we'll be there for you and your building when it comes to improving your urinals and keeping your investments within your budget. We understand that urinal services can be pricey for a lot of commercial properties, which is why we offer financing options to help make everything much more affordable.
Contact us online or call us at 801-661-8155 to get in touch with us and let us know how we can support you and your property through our comprehensive urinal services!