The commercial plumbing specialists at Beehive Plumbing have helped countless businesses and office spaces when it comes to spotting serious plumbing issue symptoms!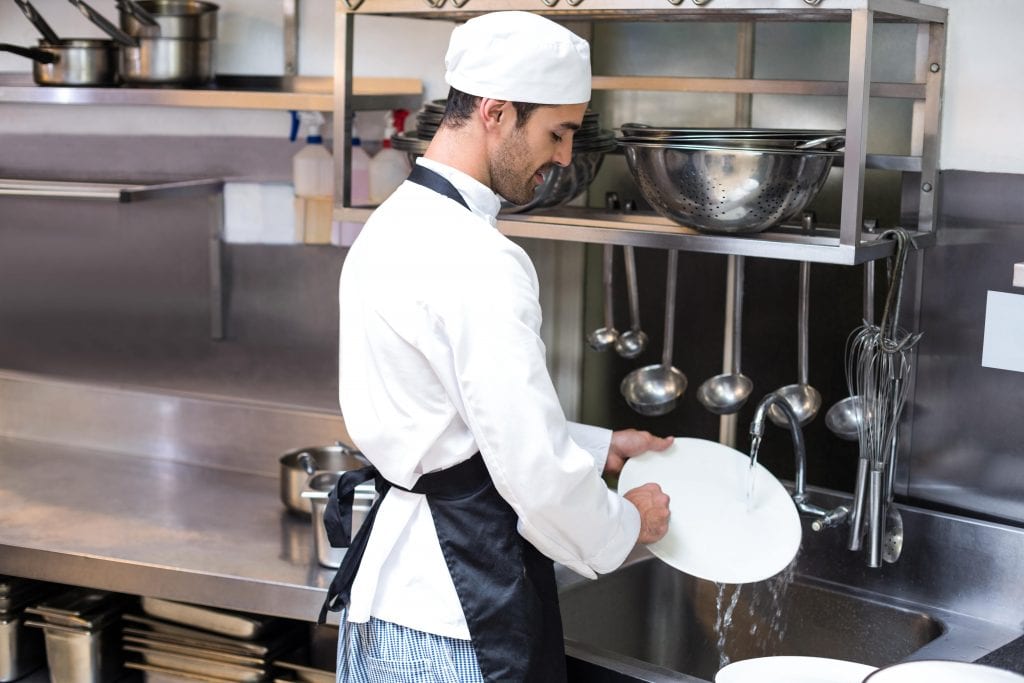 It's true that the vast majority of commercial plumbing systems will be more durable than residential plumbing structures, but it's still important for all Northern Utah business owners to keep an eye on their plumbing system and notice any potential underlying problems.
There are of course many different signs/symptoms that business owners should be on the look out for, but the following are 7 of the most common commercial plumbing symptoms that may indicate that your business' system needs a repair or upgrade!
Lower Water Pressure
Reduced water pressure can be one of the most clear indications that your system is experiencing a serious clog/blockage, and the Beehive Plumbing team specializes in commercial toilet repair services. Subtle or gradual water pressure decreases should always be addressed, but they aren't typically considered to be emergency plumbing situations.
However, a sudden drop in water pressure is a much more serious issue that would most likely necessitate an emergency plumbing visit. This is primarily because sudden water pressure drops are a common sign of a broken pipe or complete blockage, which undoubtedly will require instant professional attention.
Discoloration With Your Water Supply
There's no doubt about it that any type of discoloration in your commercial plumbing water supply is very alarming, and you should always reach out to our specialists when your business' water becomes discolored without any tangible explanation.
It's likely that brown/dark water can be a sign of serious pipe corrosion, which can very quickly lead to a burst pipe. Of course no one wants to have gross-looking water at their business, so if this is something you're experiencing then it may be time for our expert pipe lining services!
Foul Smells
It's always bad when your business is experiencing really bad smells emanating from plumbing fixtures, and there are a number of different issues that may cause these types of foul smells.
Sewer line repairs are a big part of what our specialists do, so we'll always be able to thoroughly examine your businesses' potential sewer leaks. It's of course a great thing that our team will be able to fix these types of issues somewhat easily, but from a business owner's standpoint it's always important to pay attention to these types of strange smells that may be developing.
Slow Drainage Issues
We understand how many different businesses utilize liquid drain cleaners when it comes to routine slow drain issues, but it's important to realize that you're going to need professional assistance if an over-the-counter drain cleaner doesn't get the job done correctly.
It can be very difficult to locate the origins of a clog, especially within commercial properties, so it's very likely that your liquid drain cleaner won't even reach its intended location. This is why it's absolutely critical to put your trust in an experienced commercial plumbing team who will be able to utilize pipe inspection cameras and comprehensive drain cleaning methods like hydro jetting to resolve your slow drainage issues once and for all!
Old Piping Materials
Your business may need to upgrade your pipes, depending upon how old your building is and whether or not there have been any recent renovations. There are many different types of pipe materials that have been used over the past several decades, but it's important to realize that no pipes last forever.
It's likely that you don't quite know your pipe materials' lifespan, and our team can always help you when it comes to remodel plumbing if it's deemed necessary.
Water Strains
Water strains are any brown spots that you may recognize within a building's walls or ceilings, and these are actually quite serious signs of more underlying problems. Water strains will always clearly indicate that your commercial plumbing system is experiencing a leak, and there's no doubt about it that these types of leaks can result in expensive structural damages if ignored.
So if you ever notice any kind of water strains throughout your commercial property, it's a clear a sign that you're going to need a pipe replacement or repair very soon!
Strange, Gurgling Noises
Another common commercial plumbing issue symptom is when a sink makes strange gurgling noises, because this is a sign that your system is experiencing a backup. Some commercial plumbing appliances that are likely to make gurgling noises include laundry machines, dishwashers, sinks and sump pumps.
So no matter what type of commercial property you own, you're going to want to make sure you're addressing any gurgling noises as soon as possible!
Reach Out To The Beehive Plumbing Team To Learn More About Our Commercial Plumbing Services!
Commercial plumbing problems can end up being very expensive if they are neglected for too long, so it's always your best bet to get these types of signs examined prior to any serious issues occurring.
Our team of specialists has helped countless commercial properties over the years, and you can always count on us to get the job done as efficiently and as affordably as possible.
So reach out to us online or call us at 801-661-8155 today to get in touch with our specialists and let us know what type of commercial plumbing issues you're experiencing!