Knowing how a tankless water heater installation assists long-term real estate investments can make a difference when you decide to sell!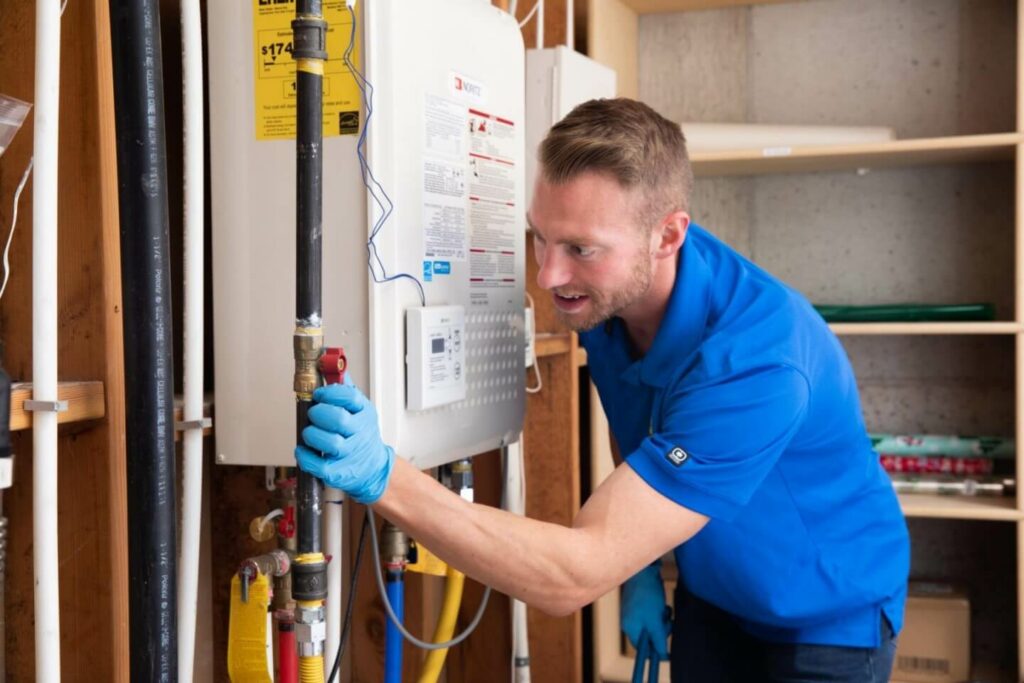 Tankless water heaters utilize a very sleek, space-saving design that is just one small factor into how they're great alternatives to traditional hot water tanks, which can sometimes take up an entire closet space or corner of a home's garage. The main objective of both types of water heaters is to essentially heat up a household or business' water supply to a set temperature, but when you get a tankless water heater installation you'll inevitably reap a lot of benefits that we'll discuss in detail throughout this article.
One of the main differentiations with traditional and tankless water heaters that makes a big difference with overall convenience is that traditional water heaters will actually mix cold water into the tank as the overall supply drops. This is why you'll experience your shower temperature drop if you leave it on for too long, but a tankless water heater doesn't have this issue because it uses technologically advanced coils to heat the water as it's pulled through your pipes into your home's water supply.
The end result is essentially an endless hot water supply at a consistent temperature!
We know that a lot of people have questions and concerns about tankless water heaters and how they can potentially improve a property's overall value, so always feel free to contact us if you'd like more information after reading through these 4 key ways you can improve your property's value with a tankless water heater!
1. Energy Efficiency and Monthly Bill Savings
It's no secret that tankless water heaters are more cost-effective in terms of long-term energy efficiency, and the overall difference in this regard as compared to traditional water heaters generally depends upon usage. For instance, if a homeowner uses only about 40 gallons of water each day then their tankless water heater can be up to 35% more energy efficient!
But even if your household experiences a lot of daily water usage, you'll still be about 15% more efficient by utilizing a tankless water heater. On average, families with tankless water heaters save a little bit more than $100 each year on energy bills. Although this may not seem like a significant amount of savings to some, the fact that you can boast this type of water heating technology will inevitably be an improvement towards property value and buyer appeal!
2. More Space for Storage
Every homebuyer is impressed by storage space, and this is because buyers are going to be conceptualizing how they'll place their belongings in your home during showings and open houses. There's no denying how much closet, garage and basement space traditional water heaters take up, and you'll be surprised by the response a little added storage space can provide.
Tankless water heaters are so simple in their construction, because they're mounted on your wall and free up to about 15 square feet of floor space and storage that will undoubtedly be a plus for potential buyers!
3. The Future is Green
As we enter a new decade that's increasingly influenced by technological advancements and environmental stewardship, it's safe to say that the latest generation of homebuyers will more strongly consider their carbon footprints and overall sustainability. Young adults understand how their environmental responsibility plays a significant factor in all of their investment decisions, and real estate is absolutely no exception.
How this notion directly correlates to increasing your property's value is the fact that these same homebuyers are much more willing to pay more to ensure the overall sustainability of their investments. A tankless water heater installation, among other energy efficient upgrades, will undoubtedly make your property much more attractive to this massive demographic.
Real estate specialists and consumer analysts have concluded that these environmentally friendly trends are here to stay for the foreseeable future, so jumping on the train now can get you a leg up at the bargaining table when you're ready to sell!
4. Competing with Smart Homes
There are a lot of energy efficient trends permeating throughout new construction homes in Utah and the rest of the United States, which directly correlates to the importance of homeowners understanding where they stand with their overall competition on the market.
With the showcase of a tankless water heater you can give your property a better shot at competing with other listings in your area that have outdated appliances and features, and it will help you to also compete with newer homes that have more technological advancements.
Get in Touch With Us Today to Learn More About How a Tankless Water Heater Installation Can Increase Your Home's Value!
There are many other pros and cons that coincide with tankless water heaters that you should know about, so always feel free to contact us today to get in touch with one of our experts who can answer all your questions and concerns.
So reach out to us to schedule a consultation for a tankless water heater installation today!