Beehive Plumbing has hired some of the very best Salt Lake City plumbers, and here's what our experienced experts do for homes and businesses!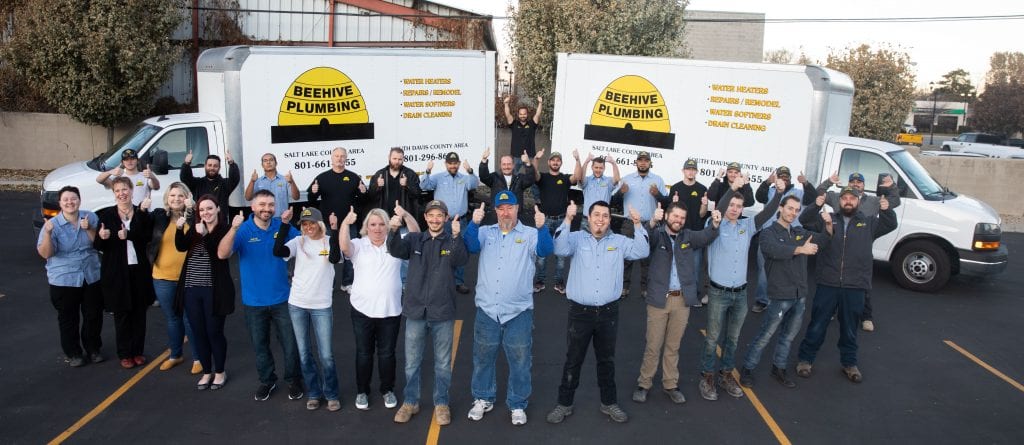 Most people don't want to think about their plumbing system, until the need for a repair job comes up. And when you need plumbing services, it can feel like the only thing you can think about because of how pressing it is for your home's functionality.
The good news for Northern Utah is that Beehive Plumbing has some of the best Salt Lake City plumbers that provide high-quality services for affordable prices. We want to make sure everyone can afford their much-needed plumbing projects, which is why we offer financing options to keep our work within your budget.
Below are some of the most common plumbing services we provide throughout the Salt Lake Valley:
Sewer Line Repairs
It's always frustrating when your home's sewer line is malfunctioning, but the good news is that Beehive Plumbing has you covered when you need a sewer line repair.
There's no denying how unsanitary wastewater backups can be, which is why you'll need our experienced specialists right away when you need this type of plumbing issue assessed and repaired.
Detecting & Repairing Leaks
There are several factors that contribute to the all-too-common household plumbing leaks, including ground movement, foundation settling, and long-term corrosion. Leaks can also create all sorts of other subsequent issues, including mold and mildew development and even serious structural damages.
If you have any suspicions that your property is experiencing a leak, you'll need to reach out to our Master Plumbers right away. Our specialists will be able to accurately detect where your leak is coming from and quickly repair it so you're avoiding further issues.
Drain Cleaning
Drains will become clogged over long periods of time, and drain clogs are often caused by soap scum, hair, and all sorts of other debris. It's important to remember that drain clogs are much more than a nuisance, and these plumbing problems can often create serious damages to your home's system.
Professional drain cleaning services have come a very long way in recent years, and the Beehive Team has invested heavily in state-of-the-art technology that makes our drain cleaning efforts incredibly efficient. We'll help you get your drains flowing freely again, and also prevent future clogs for the long-term future!
Water Heater Repairs
Water heaters can break down without a moment's notice, and when your home's water heater is malfunctioning, it'll be 100% necessary to reach out to licensed specialists for a water heater repair request.
Our water heater experts will get your system up and running as quickly as possible, and we'll be sure to give you some extra advice in terms of how to prevent future issues as well.
Repiping Projects
When your property is in need of repiping, it's going to be a pretty big project. You won't want to put your trust in just any plumbing company for this type of work, which is why it's so crucial for Northern Utah households to reach out to our experienced specialists when they need new pipes.
Pipe Inspection Camera Services
Our pipe inspection cameras do an awesome job at seeing what's going on within sewer lines. These cameras will help our team better understand where leaks and blockages are occurring, and what's causing them.
Thawing Frozen Pipes
Pipes freeze all the time in Northern Utah during the winter months, so it's important for property owners to understand how serious this situation is. No one wants to risk a pipe burst, and our team will help you when you need to have your pipes properly thawed.
Contact Our Salt Lake City Plumbers When You Need Our Services!
Beehive Plumbing has supported tons of homes and commercial properties throughout the Salt Lake City area, and our experienced plumbing specialists will support you no matter what exactly you're experiencing.
Contact us online or call us at 801-661-8155 to speak with our Master Plumbers to schedule an appointment in the Salt Lake City Metro Area today!