Beehive Plumbing provides commercial plumbing services to countless restaurants in Northern Utah, and we often do grease trap cleanings.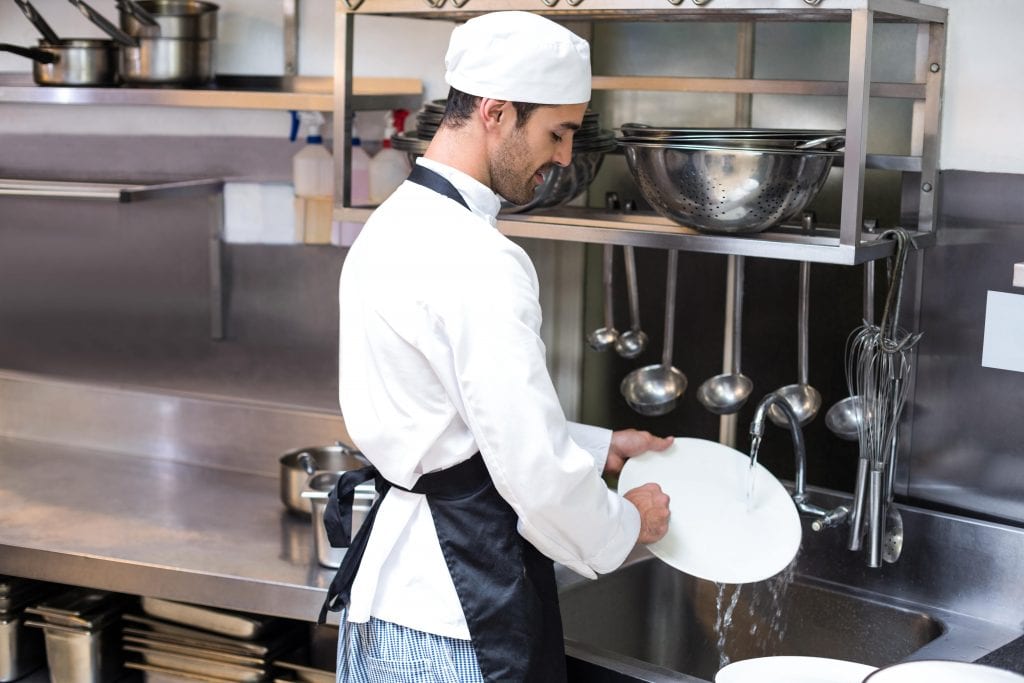 Grease traps are the crucial boxes found within a restaurant's wastewater drain, which extends from kitchen sinks and other appliances. Grease traps to do a great job at reducing the overall amounts of oils, fats and greases that enter a main sewer line.
Beehive Plumbing has been a go-to source of commercial plumbing services for Northern Utah restaurants for over 20 years, and we've helped countless businesses with properly cleaning out their grease traps. Below we'll be going over how grease traps work, the two main types of grease traps to consider for your restaurant, and five signs indicating that you need professional grease trap cleaning!
How Exactly Do Grease Traps Work?
Oils and greases will always float above water due to their higher density, and in restaurants this means that greases and oils will get stuck within grease traps. This is absolutely crucial when restaurant teams are trying to avoid drain clogs due to oils and greases, which is why grease traps are so important.
But it's also important to remember that grease traps will slow down your plumbing system's water flow, because it'll be separating solid materials from wastewater.
Two Common Types of Grease Traps
The two main types of grease traps are either automatic or manual, and below we're detailing what you should know about both:
Manual Grease Traps
These grease traps have been around for over a century are often found in commercial restaurants. They're typically made of either plastic or stainless steel, and these grease traps often require professional cleaning services.
Automatic Grease Traps
This is often referred to as an AGRU, or Automatic Grease Removal Unit, and these grease traps are relatively similar to their manual counterparts. The main difference with automatic grease traps is that oils and greases are removed on an established schedule.
Five Signs That Your Restaurant Might Need A Grease Trap Cleaning!
Grease traps are essential for every restaurant, and all of them require routine cleaning services and plumbing checkups to ensure that everything is running smoothly.
Below are some common warning signs that your grease trap is in need of a proper cleaning:
Your Drainage System Is Moving Wastewater Very Slowly
Every grease trap is going to accumulate dense amounts of grease and fats over significant periods of time, and slow drainage is usually a sign that your grease trap simply is accumulating too much raw material.
Grease buildup can pose all sorts of problems for your restaurant's plumbing system, so slow drainage really is just the tip of the iceberg when it comes to how your grease buildup could be impacting your system.
You're Experiencing Unexplained Smells In Your Kitchen
When you smell odors that you can't explain in your restaurant's kitchen, then it's very likely that the smells are emanating from your grease trap that needs to be thoroughly cleaned.
But it's also important to remember that simply cleaning out your grease trap might not be enough to fully eliminate the smells, because these types of odors are often the result of long-term food waste buildup. That's why this situation often requires professional drain cleaning services to get to the source of your odor and eliminate it for good!
Your Grease Traps Are Above The 25% Total Liquid Depth
The EPA has created a rule detailing when restaurants and other businesses should clean out their grease traps, and it usually is oriented around the grease trap's wastewater depth surpassing 25%.
When you neglect these types of plumbing issues, you can start to experience malfunctions with your most important kitchen appliances and fixtures, and these issues also pose serious health and safety risks!
Grease Is Leaking Throughout Your Restaurant's Kitchen
Excessive grease buildup can happen when your restaurant's grease trap gets blocked, and this will often result in grease leaking into other parts of your plumbing system and kitchen.
This grease could pose issues to your sewer pipes, water lines, sinks and much more. So if you're noticing grease in random parts of your kitchen, then it could mean that you need to get your grease trap checked out by plumbing professionals.
It Has Simply Been Awhile Since You've Cleaned Your Grease Trap
Regular grease trap cleaning is absolutely important for every restaurant, and you should thoroughly clean out your grease traps at least on a quarterly basis. But it's important to remember that you might need to do this type of cleaning more often, depending upon the type of restaurant you have.
And although your kitchen employees can do this type of cleanout job every now and again, it's even more important to have commercial plumbing experts come check things out at least twice a year to ensure that you're not building up any lingering plumbing issues that could shut your restaurant down!
Reach Out To The Commercial Plumbing Experts To Learn More About How We Help Restaurants With Grease Trap Cleaning!
Beehive Plumbing has helped countless restaurants throughout Northern Utah with all their commercial plumbing needs, and this includes comprehensive grease trap cleaning services.
Contact us online or call us at 801-661-8155 to learn more about how we can support your restaurant's plumbing system!