Commercial water heater repairs can be expensive, so it's important for business owners to looking out for their water heater's longevity!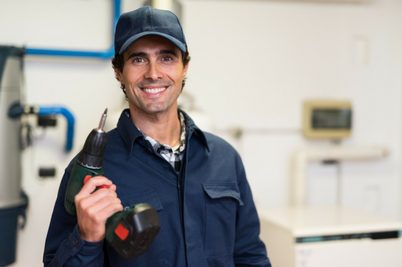 Being building and facility managers at large commercial properties is never an easy task, and the to-do lists for these positions seem to be never-ending! And when your commercial property requires a commercial water heater repair after many years of solid use, it can seem like Armageddon is on your hands.
The good news for building owners and managers is that experienced commercial plumbing specialists like the Beehive team are here to support you all throughout Northern Utah, and below we're providing a comprehensive overview detailing commercial water heater durability, water heater repair warning signs, and how to know when you should repair or replace your commercial water heater!
Commercial Water Heaters Are Typically Very Durable
It's totally possible for a commercial water heater to last 50+ years before needing a replacement, but you'll of course need to invest in routine maintenance to ensure this level of durability.
Commercial water heaters are known to last several decades, but they of course don't last forever. There are tons of aging commercial water heaters all throughout Northern Utah today that need to be repaired/replaced, and building owners and managers have to come to terms with tough decisions when they're starting to experience water heater issues.
Commercial Water Heater Repair Warning Signs To Be On The Lookout For!
Although there are many warning signs associated with commercial water heaters, the following are some of the most common to be aware of:
Your Building's Water Supply Isn't Getting Hot Enough
If you're beginning to hear complaints about water temperature throughout your commercial property, then it's a clear warning sign that something is malfunctioning.
This type of problem could simply only need a basic repair, but it could be a warning sign of needing a full-on system replacement as well.
Water Heater Leaks
It's also very important for building managers to regularly check for any water drips or leaks coming from a commercial water heater system. It's important to remember that even the tiniest of leaks can end up accumulating into bigger issues with time, because you may end up experiencing problems like water damage within your building.
This type of warning sign is also one that could be easily repaired, or could be an early sign of a system failure.
Visible Aging Signs & Rusting
Looks most certainly can be deceiving when it comes to commercial water heaters, because rusting and aging signs don't always mean that your water heater needs to be fully replaced. However, it's important to remember that these warning signs are typically an initial indication that your system is getting pretty old.
If your building's water system seems to be completely functional with no issues, then you probably don't need to worry about your rust. But if a professional water heater specialist tells you otherwise, then it's time to take your water heater aging signs more seriously!
Knowing When To Repair & Replace An Old Water Heater
Your building's commercial water heater should be more than capable of lasting well over 20 years if you take care of it properly, so if your system is less than 20 years old then you'll likely only need a repair for whatever you're going through.
Once your system is above 20, then the likelihood of needing a replacement will increase. It generally will depend upon your unique circumstances, which is exactly why you're going to need to put your trust in experienced commercial plumbing experts like the Beehive Plumbing team!
Contact The Commercial Plumbers at Beehive Plumbing To Learn More About Our Commercial Water Heater Repair & Installation Services!
Beehive Plumbing has helped many commercial properties in Northern Utah over the past 20 years, and we'll always be ready to check out your building's water heater system to ensure that everything is running smoothly.
Our commercial plumbing specialists are only a few clicks away, so reach out to us online or call us at 801-661-8155 today to let us know what's going on with your building's water heater!