The pipe inspection cameras from Beehive Plumbing are incredibly valuable tools to support your property with all sorts of plumbing repairs!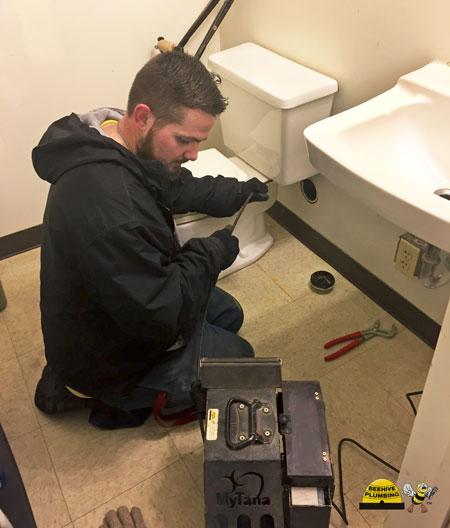 Sewer line repairs truly are a homeowner's worst nightmare, and this is because they're expensive, intrusive and can take a pretty long time to fully resolve. The good news is that the Beehive Plumbing team utilizes some of the most state-of-the-art technology like pipe lining and pipe inspection cameras to ensure that your sewer line issues can be resolved as efficiently and as affordably as possible.
These days you don't have to worry about trench digging and literally destroying your front yard for a plumbing repair, and below we'll be going deeper into how our pipe inspection cameras work to help you avoid those outdated repair strategies!
How The Pipe Inspection Process Works
The beginning of the pipe inspection process essentially entails one of our Master Plumbers coming to your home or business and inserting one of our specialized inspection cameras down into your sewer line. We utilize state-of-the-art fiber optics that are securely attached to a flexible metal cable, and our technician will feed this cable deep into your sewer line and control the camera through a remote control that's directly connected to a small monitor.
The camera and the monitor are connected to each other in order to develop a closed-circuit display, and powerful lights on the camera will ensure that the inner workings of your pipes are fully illuminated. This illumination is particularly important so our technicians can see every detail within real-time.
We'll then let you know about any clogs, debris or cracks within your sewer lines, and let you know what your best course for action is based upon your unique circumstances.
Common Scenarios When We Utilize Our Pipe Inspection Cameras
It may be surprising to many people in terms of how often we'll utilize our inspection cameras, and this is a strategy that we typically deploy when it can help us prevent busting up a property's floors or tearing up lawns like what was necessary many years ago.
Pipe inspection cameras are useful for a whole variety of different plumbing repair situations, and this is mainly because it's really easy and non-intrusive. Using this cutting-edge equipment, our plumbing specialists will be able to visually identify root damage, breaks, corrosion, fractures and many other issues. Once we know exactly what you're dealing with, we'll be able to more efficiently resolve your plumbing problems.
When we discover tree root infiltration within your pipes, we'll many times utilize our hydro jetting technology and then re-seal the leaks via pipe lining strategies. But whatever issue you're currently dealing with, our pipe inspection cameras will be capable of identifying and locating the problem.
Why Inspection Cameras Are So Effective
If we didn't utilize video inspection, the only other way we'd be able to understand what exactly was happening within your pipes would be to dig down through the ground until we directly reached your pipes. This of course is an unnecessarily intrusive and slow process, but it was what was necessary in the past.
Pipe inspection cameras allow us to precisely measure out exactly where your plumbing problems are occurring, and this then allows us to resolve the issues with minimal disruptions. Our cameras are also very versatile in that they're more than capable of locating all sorts of problems that you may be experiencing, including the underlying problems behind persistent plumbing issues.
Reach Out To The Beehive Plumbing Team To Schedule Your Pipe Inspection Camera Appointment Today
Beehive Plumbing has supported countless homes and businesses in Northern Utah with our pipe inspection camera technology, and our certified specialists will be able to conduct these procedures quickly and let you know what exactly you're dealing with.
Contact us online or call us at 801-661-8155 today to get in touch with our team and let us know if you need your property's pipes inspected!