There are many differences between hydro jetting and drain snaking that northern Utah homeowners should know about!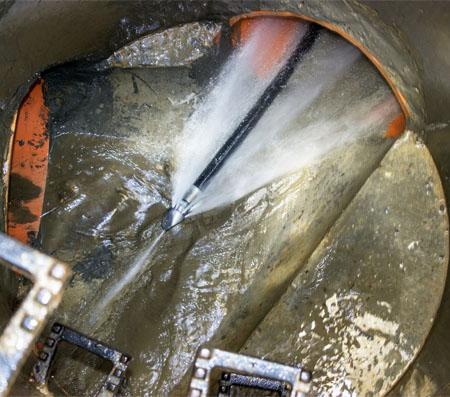 Beehive Plumbing has supported the northern Utah community for over 20 years, so we've done our fair share of drain cleaning all throughout the region.
Two of the most popular drain cleaning techniques include hydro jetting and drain snaking, and many homeowners are curious about which process is better for their residential plumbing systems.
Below we'll be providing a comprehensive overview of both drain cleaning techniques, as well as answering some common questions we get about which option is better!
Drain Snaking
Drain snaking entails using a long cable that's connected to an electric motor, and this motor slowly pushes and pulls the cable out of a plumbing system's drains. This cable often entails blades on the end of it, which allows the cable to de-clog all sorts of pesky drain blockages.
There are many different types of drain snakes in today's plumbing industry, and each snake is designed to address specific types of clogs and plumbing issues. That's why it's so important to understand the type of clog you're experiencing when considering drain snaking, and our Master Plumbers will always be equipped to handle any type of snaking needs if necessary.
It's typically acceptable to use a drain snake when you're trying to eliminate soft stoppages, which include causes like hair, food and toilet paper.
Hydro Jetting
Hydro jetting utilizes high-pressure water jets that effectively blast through all sorts of hardened debris, stubborn clogs and even tree root infiltrations within pipes. Hydro jetting is much like drain snaking in that there are many different applications and sizes that can be used (depending upon specific issues).
You'll typically require a cleanout for each drain that you hydro jet, but this is undoubtedly one of the most tech-savvy drain cleaning methods available for all northern Utah households!
Can Hydro Jetting Damage My Home's Pipes?
This is a common question that our Master Plumbers receive about hydro jetting, and the truth of the matter is that hydro jetting is never the cause of pipe damages.
So if a pipe does break or fracture during a hydro jetting appointment, it's because of the pipe's own degradation and not the actual hydro jetting. So hydro jetting is almost always a very safe drain cleaning method for every home, unless a property just so happens to be in dire need of re-piping services.
How Much Does Hydro Jetting Typically Cost?
The overall cost of hydro jetting tends to vary depending upon a few different factors like the type of cleaning needed, the location of the drain, cleanout accessibility, or just overall difficulty in accessing the clogged pipe.
So overall hydro jetting costs can vary between about $250-1,000.
How Should I Choose A Drain Cleaning Business For My Northern Utah Home?
Here are a handful of factors to keep in mind while you're looking to hire a drain cleaning business in the northern Utah region:
Only work with plumbing businesses with great online reviews, and make sure they provide drain cleaning experts.
Choose a plumbing company that highly values transparency, including before & after pictures/videos of past work.
Make sure you're getting a written warranty on all drain cleaning work.
Only work with plumbers who provide honest pricing.
Make sure your plumbing team will show up with all the necessary equipment to successfully resolve your drain issues.
How Long Do Hydro Jetting Appointments Typically Take?
The overall duration of hydro jetting services will largely depend upon how much drain cleaning is needed. The average hydro jetting appointment takes around an hour to complete, but there are plenty of scenarios in which larger homes or more extensive cleans require about 90 minutes.
Contact The Drain Cleaning Experts At Beehive Plumbing To Learn More About Which Method Is Right For Your Home!
Beehive Plumbing has supported countless northern Utah properties with our comprehensive drain cleaning services, and we'll let you know when hydro jetting or drain snaking makes more sense for your specific needs.
Contact us online or call us at 801-661-8155 to get in touch with our drain cleaning specialists today, and let us know what exactly is going on within your home's drains!