We've seen our fair share of plumbing disasters throughout northern Utah, so here's our list of things to avoid doing to your plumbing system!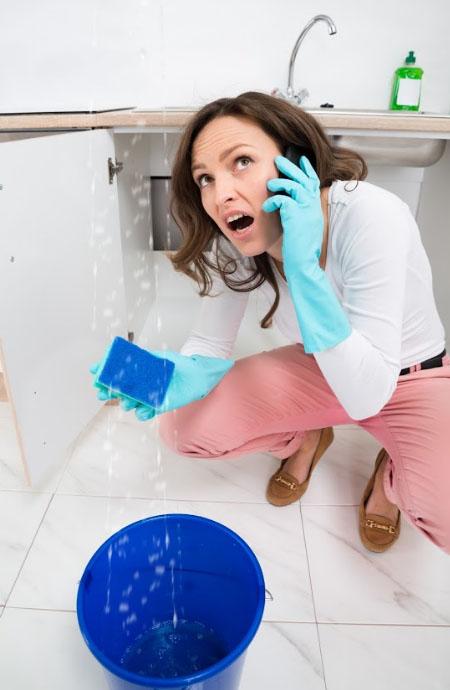 Everyone has experienced a plumbing disaster at least once, and it's true that certain emergency plumbing situations are tough to avoid.
But the tougher truth is that too many people treat their plumbing systems poorly, and this general lack of care is often the reason why professional plumbing services are needed to get things back to normal again.
All of us at Beehive Plumbing have seen our fair share of plumbing mishaps and disasters throughout recent decades, so we know common plumbing mistakes better than most people. Below is our list of five things you should never do to your plumbing system in order to keep it functioning properly!
1. Throwing Just About Anything Down Your Drains
It's all-too-common for people to consider their garbage disposals as just another waste bin in their homes, and this leads to all sorts of food products being improperly put into your plumbing system. Your garbage disposal and drains are designed to handle certain types of waste, and a lot of kitchen waste like oil, grease and food scraps can actually end up creating pesky clogs.
The same exact issue applies to toilet drains, because all sorts of toilet repairs are the result of improper flushing.
So, what should you do instead?
Be sure to remove any kitchen fat, grease and oil and place into separate disposable containers. Once you're ready to dispose of this kitchen waste, be sure to throw it in your regular trash bin.
And always remember that only human waste and toilet paper should go down your toilets. Although there are plenty of products that are marketed as flushable wipes, these products can actually do a lot of harm to your drains!
2. Ignoring Preventative Plumbing Maintenance
A lot of homeowners also forget to pay attention to their plumbing system, even when warning signs are lingering. Just like any other complex system, your property's plumbing system needs to be maintained on a regular basis in order for it to uphold its overall functionality.
So, what should you do?
Beehive Plumbing offers scheduled plumbing maintenance programs, which entail our specialists coming to your home or business about 2-3 times a year. We'll be sure to check up on your system's most valuable appliances and fixtures, and let you know when lingering issues will soon get out of hand.
3. Ignoring Plumbing Repair Warning Signs
As if ignoring scheduled maintenance isn't bad enough, there are also plenty of people who ignore noticeable plumbing repair warning signs. As plumbing issues develop, they ultimately get more expensive to address.
So even seemingly innocent issues like slow drains and gurgling sounds need to be taken seriously, because these little issues will slowly but surely turn into plumbing disasters.
So, what's your ideal prevention strategy?
You simply can't ignore warning signs when you notice them. It's also important for homeowners to actively be on the lookout for plumbing repair warning signs, and reach out to our Master Plumbers when professional work is needed.
4. Filling Your Pipes With Harsh Chemical Drain Cleaners
Drain clogs have always been one of the most common plumbing issues that people experience, and a lot of people will quickly resort to over-the-counter chemical drain cleaning products when they're experiencing pesky clogs.
Although these products will work in many situations, a lot of people don't realize just how corrosive these products are in terms of permanently damaging your pipes. So although chemical drain cleaners can unclog pipes, they ultimately put people in much worse situations when their pipes deteriorate prematurely.
So, what's the right way to unclog drains?
If you're experiencing a pesky drain clog, you should always reach out to our drain cleaning experts.
Our team will utilize state-of-the-art technology to address your unique needs, and the result will be long-lasting functionality that doesn't put your pipes in jeopardy.
5. Considering Every Plumbing Issue As A DIY Project
Although there are certain instances in which DIY plumbing is perfectly fine, the odds are that you're going to run into issues when you attempt to complete a complex plumbing repair on your own. We encourage our clients to take care of their plumbing systems in between maintenance appointments, but you have to remember that the vast majority of plumbing repairs simply aren't DIY projects.
Most plumbing projects require expert experience and professional skills, as well as professional-grade tools and equipment. So attempting a DIY plumbing project can often do more harm than good for your plumbing system!
So, what's a better alternative to DIY plumbing?
DIY plumbing is fine when you're sticking to simple tasks that can easily be pulled off, but any large-scale plumbing project needs to be placed in professional hands.
Contact The Beehive Plumbing Experts To Learn More About Properly Taking Care Of Your Plumbing System
Beehive Plumbing is a leading plumbing company based in northern Utah, and we've supported countless property owners shortly after they've made costly mistakes.
Reach out to us online or give us a call at 801-661-8155 to let us know what you're currently going through with your plumbing system!