There are several different types of residential plumbing pipes, and they all offer their own pros and cons!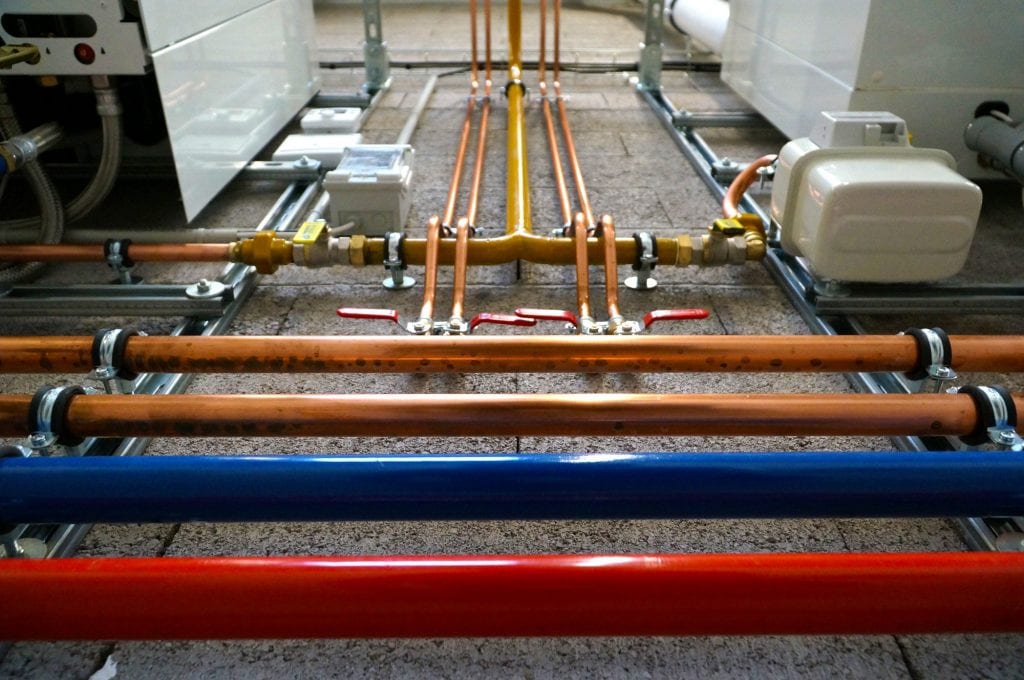 Modern, residential plumbing pipes have come a very long way in recent years, and these all-important plumbing components are what makes everything possible within the entire plumbing industry.
Most homeowners throughout northern Utah take their pipes for granted, until something goes wrong and they're in need of significant pipe repairs or even repiping services. All of us at Beehive Plumbing want our customers to thoroughly understand what their pipes are made of, and how certain pipe materials are better than others.
That's why we've developed this comparative blog oriented around the pros and cons of common residential plumbing pipes. So below are the most common pipe materials used in today's industry, as well as the pros and cons of each material!
Galvanized Steel Pipes
Galvanized steel pipes were wildly popular throughout residential plumbing systems in the past, but their popularity has slightly subsided in recent years. However, galvanized steel is still one of the top piping materials throughout northern Utah's older properties.
Galvanized steel is obviously very strong, but these pipes also offer a zinc coating that helps avoid corrosion. Below are the pros and cons associated with galvanized steel pipes:
Pros
Long-lasting and very strong
Capable of resisting corrosion
Cheaper than some other types of pipes
Minimum maintenance required
Cons
Relatively short lifespan
Susceptible to clogging and rust
Can potentially cause lead contamination
Difficult to work with
PEX Pipes
PEX pipes, also referred to as cross-linked polyethylene pipes, are relatively new within the plumbing industry. They're comprised of a very flexible plastic that's easy to conjoin and cut, and they're ideal for all residential plumbing systems.
Below are some of the pros and cons associated with PEX pipes:
Pros
Corrosion-resistant and very long-lasting
One of the most flexible plumbing pipes in today's marketplace
Installations and repairs are simple
Capable of transporting both cold and hot water
Top-notch thermal conductivity
Cons
Can potentially contaminate a home's water supply
Only good for indoor use
Don't mix well with chlorine
Are susceptible to rodent bite damages
Can experience damages due to extreme heat
Copper Pipes
Copper pipes may be considered as a traditional piping material, but they're still a top option even in today's ever-changing plumbing industry. Copper pipes don't pose any health risks, so they're a popular option for residential plumbing systems. You'll likely have the choice between rigid copper and flexible copper tubing for your plumbing system's piping.
Copper pipes also come in several different diameters, most commonly in 22mm or 15mm. However, there are also 108mm sizes that are best suited for commercial properties. There are also thickness grades, including Type M, Type L and Type K grades.
The pros and cons of copper pipes include:
Pros
Last upwards of 50+ years
Incredibly sturdy, and unlikely to leak
Very good resistance to corrosion
Recyclable
Capable of killing viruses and bacteria
Resistant to extreme temperatures
Cons
Generally more expensive than other piping materials
Aren't considered to be eco-friendly
PVC Pipes
PVC (polyvinyl chloride) pipes are now considered to be the most popular piping material. These pipes are comprised of a very unique thermoplastic polymer, which is a combination of plastic and vinyl.
Because PVC pipes are so versatile, they're great for transporting drinking water and draining wastewater. These pipes also come in different ranges of thickness and colors, so they're versatile for all sorts of plumbing applications.
Some of the pros and cons associated with PVC pipes include:
Pros
Can last 100+ years
Can handle high water pressure
Easy to work with and lightweight
Affordable
Corrosion-resistant
Cons
Available in limited sizes
Susceptible to warping
CPVC Pipes
CPVC (chlorinated polyvinyl chloride) pipes are very similar to PVC pipes, except these pipes are also chlorinated. This gives them an improved ability to withstand extreme temperatures. So because CPVC pipes are generally more durable than PVC pipes, most plumbing companies are now using this material.
The pros and cons of CPVC pipes include:
Pros
Last upwards of 100 years
Can work well with high water pressure
Easy to install and very lightweight
Affordable
Good temperature tolerance
Corrosion-resistant
Cons
Reach Out To Us To Learn More About The Residential Plumbing Pipes That Are Best Suited For Your Northern Utah Home!
Beehive Plumbing is one of the leading plumbing companies in northern Utah, so we understand how many homeowners are curious to learn more about their residential plumbing pipes.
Our team is always available to answer your questions and point you in the right direction towards your most suitable piping materials, so contact us online or call us at 801-661-8155 to speak with our specialists today!