It's sometimes hard for homeowners to know if they need drain cleaning or clearing, so our Master Plumbers are explaining these different types of plumbing repairs!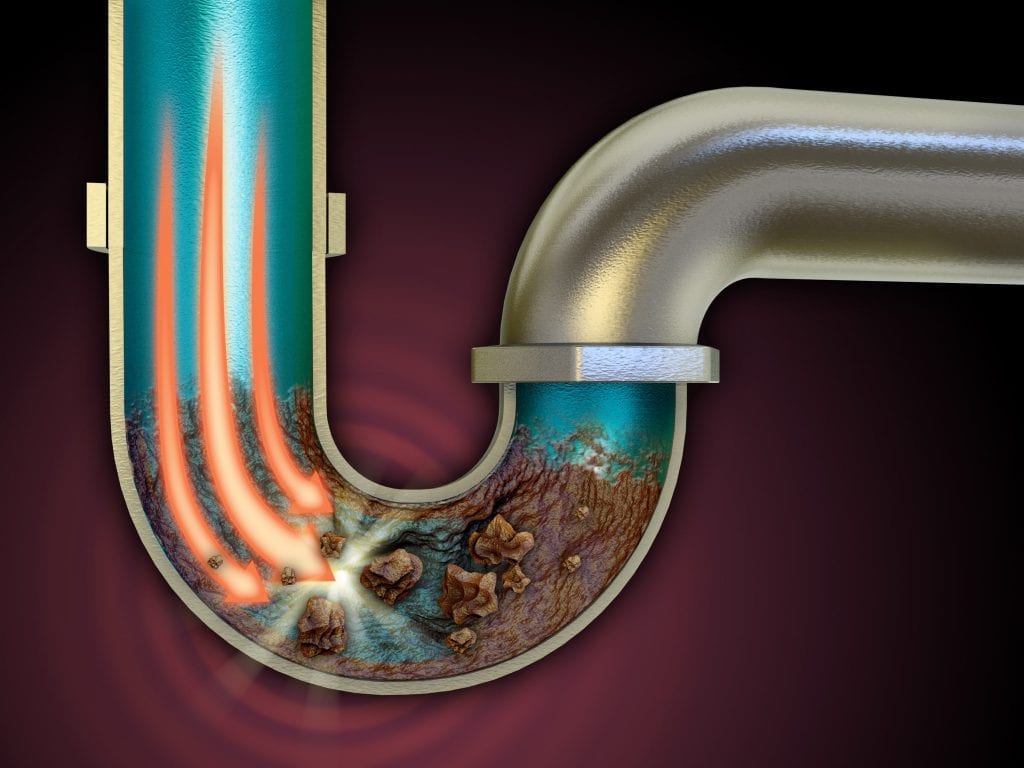 When your property's pipes have become clogged, your plumbing issues may be a lot more complex than they appear to be! That's why it's always important to work directly with our drain cleaning experts when you feel as though your clogs are a bit beyond a DIY repair job, because you may actually be dealing with a much large plumbing problem.
A lot of homeowners come to our Master Plumbers wondering if they need drain clearing or drain cleaning, so below we'll be going over everything you need to know about these complex plumbing repairs to help you be better prepared when serious clogs arise within your pipes!
Do My Clogged Drains Require Drain Cleaning Or Drain Clearing?
It's generally easy to spot a clogged drain, because one or more of your sinks will end up being noticeably backed up. Although there are many instances in which a drain snake/auger can get to the source of the clog and eliminate it, there are other scenarios in which your drain clog is actually a subsequent symptom of a much bigger issue within your plumbing system.
Drain clearing refers to removing the immediate source of a clog within any of your home's drains, and drain cleaning refers to the comprehensive work that's done throughout your entire plumbing system to address all sorts of symptomatic problems. Some of these issues can include hair, gunk and other materials that have accumulated within your home's pipes for a long period of time.
How Exactly Are Drains Cleared?
Prevention truly is imperative when it comes to the overall functionality of your plumbing system, which is why limiting what goes down your drains can always go a long way to avoid serious clogs. Some things that should never go down your drains include hair, household waste, grease and all sorts of other items that can weaken your system's functionality.
Drain clearing is considered to be a short-term solution to a clogged drain that helps people get their drain up and running again quickly. There are some minor drain clogs that only require a mixture of hot water, baking soda and vinegar to resolve, and other clogs simply require a plumber's auger/snake to resolve. It's always best to put your trust in the hands of Master Plumbers who have the tools and overall expertise to properly clear out your pipes without risking any damages to your plumbing system's infrastructure.
When you're experiencing multiple clogged drains throughout your home, then you're of course dealing with a much larger plumbing problem. Sometimes a sewer line repair may be necessary to restore your plumbing system back to normal, and our specialists will many times utilize state-of-the-art pipe inspection cameras to clearly identify what the source of your clog is and diagnose your ongoing issue.
How Exactly Are Drains Cleaned?
If you're frequently unclogging your drains, then it's possible that you're experiencing way too many clogs and simply need to have your drains properly cleaned. The drain cleaning process always starts with going over a history of your property's drain issues to better get to the root of your ongoing problem, and our team will then test each drain to pinpoint the exact locations of your backups. We'll also utilize our camera technology to thoroughly inspect your major drain clogs to get a firsthand look as to what's causing your issues.
We'll then utilize a professional-grade plumbing auger to effectively remove the clog, but once we've done that we'll then treat your pipe walls using pressurized water. This cleaning process is often referred to as hydro jetting, and it's very popular throughout all of Northern Utah.
After the hydro jetting phase, we'll then conduct another camera inspection that assesses the overall status of your pipes. This is an incredibly important last step in the drain cleaning process because it'll help us better understand if you are in fact dealing with damaged or broken plumbing pipes, or issues with your sewer line that need to addressed.
Reach Out To The Beehive Plumbing Team For All Of Your Drain Cleaning Needs!
Beehive Plumbing is here for you and your property when you're concerned about clogged drains and other issues oriented around your plumbing system. Our team of experienced specialists have the most state-of-the-art tools and industry techniques available to them to properly eradicate your clog and support you with preventative maintenance to ensure the long-term health of your home or business' pipes.
Contact us online or call us at 801-661-8155 to speak with our drain cleaning specialists today about what you're currently experiencing!