Water heater repairs can be very stressful, so here are some tips to get you and your home prepped and ready!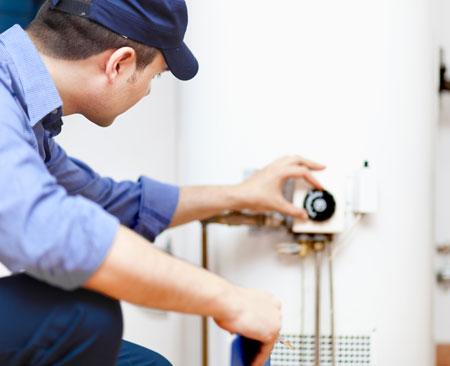 Millions of water heater repairs are needed each year throughout the United States, and here in northern Utah, home and business owners are constantly in need of support with their water heater units.
We all rely upon water heaters to a certain extent, and we just so happen to be living in a time in which a lot of properties currently have water heaters that are over 15 years old. This has a lot to do with property owners making investments around the turn of the century, as well as many homes being built in the early 2000s. A lot of people are also interested in today's latest water heater technologies, including the very popular tankless water heaters.
But today in 2023, water heater repairs and replacements are needed more than ever before. All of us at Beehive Plumbing understand how difficult it can be for homeowners to find reputable plumbing companies to conduct these all-important repair services, which is why we've developed this list of things that you should be on the lookout for while preparing your next water heater repair project.
So, keep reading on to see what you should factor in when determining who your best water heater specialists are in your local area!
The Plumbing Company's Overall Appearance
When it comes to finding any home improvement professionals, a company's general appearance is often a crucial first impression. Well-kept, clean technicians tend to not only care about their personal cleanliness, but also the cleanliness of your property.
And when it comes to something as crucial as a water heater repair, you simply don't want someone who appears unprofessional showing up at your door!
A plumbing company's appearance also applies to their Web presence as well. The best plumbing companies tend to have professional, well-designed websites. A good website usually indicates that they truly care about their work and how they present themselves to potential customers, and this subsequently rolls into their work ethic and overall customer care.
The Plumbing Company's Local Reputation
Water heater repairs are never easy, which is why you should verify a plumbing company's local reputation prior to hiring them for these types of projects.
You can check out our online reviews to see what our past customers are saying about working with us, and we're confident that you'll like what you see.
Our team takes a lot of pride in being one of northern Utah's go-to plumbing providers, and our water heater specialists are undoubtedly some of the very best in the entire region!
Water Heater Technician Experience
Just like with any technical work, water heater repair experience is a huge factor for property owners to keep in mind when hiring local plumbing professionals. The longer your water heater technicians have supported your community, the more likely you'll receive top-quality results.
Water heaters are very valuable home appliances, and repairing them is never cheap. Even the tiniest of mistakes during these repair jobs can make your unit more prone to future issues, so it pays off in the end when you partner up with your most experienced local technicians.
Beehive Plumbing has supported the northern Utah community with water heater services for decades, and our experts have been around the block in terms of seeing anything and everything that can occur to both residential and commercial water heaters.
Company Insurance & Licenses
Every legitimate plumbing business is thoroughly protected by insurance and industry licenses, and this type of liability coverage also protects property owners as well.
If a plumber doesn't have thorough insurance information available to you prior to hiring them, then this is a huge red flag that you should take very seriously. No one wants to be scammed by less experienced plumbing businesses, and you can always put your trust in the Beehive Plumbing team to have you and your property covered from all liability angles!
Estimates & Price Comparisons
There's absolutely nothing wrong with going to several local plumbing companies and getting their water heater repair costs prior to making a final hiring decision. Multiple estimates can help you better understand your local industry, and why certain companies charge what they do. In general, price comparisons help you to be more informed while finding the best value for your water heater services.
And when it comes to Beehive Plumbing's pricing, our financing options make all of our plumbing services affordable for everyone's budget. We understand how plumbing projects like water heater repairs can add up, which is why we'll be there for you and your family when you need a personalized payment plan that puts you first!
Contact Beehive Plumbing When You Need Water Heater Repairs In Northern Utah!
Beehive Plumbing is one of the leading plumbing businesses in all of northern Utah, and our team will be there for you and your property when you're in need of water heater repairs.
Reach out to us online or call us at 801-849-3821 to get in touch with our water heater experts and let us in on what's currently happening with your property's unit!