Many of our sewer line repairs begin with a pipe inspection camera appointment, so here are some warning signs to be on the lookout for!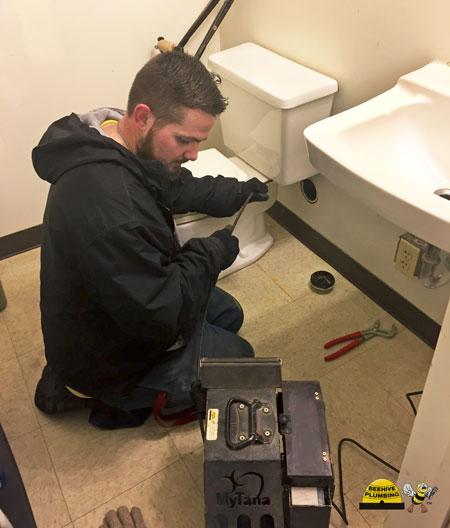 Although no one looks at their property's sewer lines on a daily basis, it doesn't mean that you shouldn't be concerned about what's going on behind the scenes within your plumbing system. There are many different warning signs out there that both home and business owners should be on the lookout for when it comes to potential sewer system issues, because these plumbing problems just so happen to be extremely hazardous.
Beehive Plumbing supports countless properties with sewer line repairs, and one of the first steps of this process is a comprehensive pipe inspection camera appointment. There are countless sewer issues that arise throughout Northern Utah no matter what time of year it is, which is why you're going to need our team of plumbing specialists to support you when things go wrong.
However, it's sometimes hard to know when something is up within your sewer line. So here are 5 common warning signs associated with needing our assistance through a pipe inspection camera appointment!
5 Reasons Why Homes and Businesses Need A Pipe Inspection Camera Appointment
Although there are many reasons why you may need a pipe inspection through our state-of-the-art cameras, the following are some of the most common reasons:
1. Your Plumbing System's Age
It's always crucial to know how old your property's plumbing system is, especially when it comes to your sewer lines. Knowing how old your pipes are will provide a better understanding in terms of the overall wear and tear this part of your system has experienced over time. Although many sewer lines can last upwards of 100 years, there are certain materials that will only last around 50 years.
This means that homes and commercial properties that are over 50 years old should have their sewer lines checked out by our experienced specialists. You never know what we may find when we get a thorough look at the inner workings of your sewer line when your plumbing system is getting old!
2. Foul Smells
If you can smell sewage-like odors throughout your property, then it's a telltale sign that something is wrong. These odors many times resemble rotten eggs, and when you smell this throughout your yard or emanating from your pipes then you'll definitely need the assistance of professional plumbers.
Our specialists will always be there for you when you're undergoing this type of unfortunate scenario, and one of the many steps we'll take is utilizing our pipe inspection cameras.
3. Noises From Your Plumbing System
If you are hearing frequent bubbling or gurgling sounds coming from your plumbing system, then there's a high likelihood that you have a clog within your sewer line. It's possible that you could have a clog within a different drain line, which is why you'll need to listen carefully in multiple rooms of your home to see where exactly these sounds are coming from.
Sounds coming from your plumbing system are particularly troubling when they also entail back-ups!
4. Back-Ups
Whenever you're dealing with toilet back-ups, you'll need to reach out to our plumbing specialists as soon as possible. It's possible that you're experiencing a sewer line backup due to a break within the line, which is always a very serious situation.
Our emergency plumbers are always on call 24/7 and will be there for you when you need us most, and we won't hesitate to utilize a sewer camera inspection to see what you're experiencing firsthand to get to the bottom of your frequent back-ups.
5. Abnormally Lush Areas In Your Yard
Tree root infiltrations are a lot more common in Northern Utah than most people would think, and when roots infiltrate your sewer lines it'll result in a natural fertilizer within your yard's soil. This subsequently leads to overgrown, lush areas throughout a property's yard.
This is why these types of spots are a warning sign that you have a ruptured sewer line, and our cameras will be able to verify if this is in fact the case and where exactly the rupture has occurred.
Reach Out To The Master Plumbers At Beehive Plumbing To Learn More About Our Pipe Inspection Cameras And Sewer Line Repairs
Beehive Plumbing has been an industry leader throughout Northern Utah for over 20 years, and one of the ways we've remained on the cutting edge of our ever-changing line of work is through our state-of-the-art pipe inspection cameras.
Our Master Plumbers will always be there for you when you need us, so reach out to us online or call us at 801-661-8155 to speak with our team today!