The Beehive Plumbing team helps countless homeowners with tub and shower repairs, and here are 6 reasons why you may need this type of service!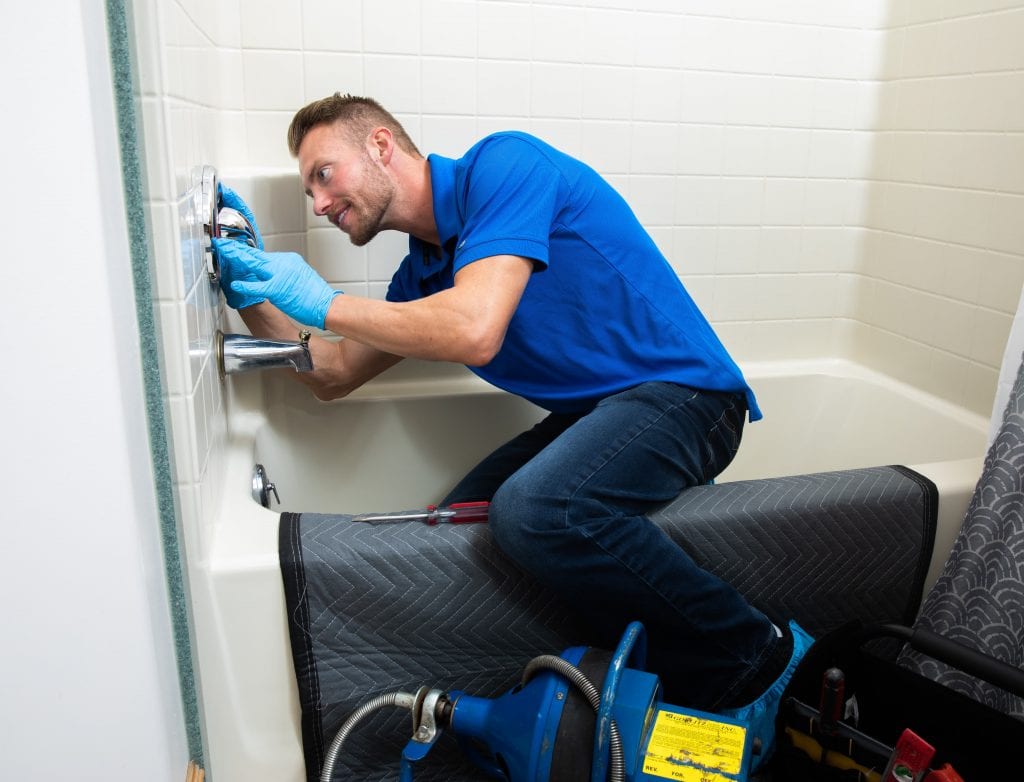 Many homeowners throughout Northern Utah consider their shower to be like a small sanctuary within their home, and for a lot of us our showers are our place to let our worries slip away and forget about everything for a moment.
What's troubling about aging showers and tubs is that this type of household serenity can quickly turn into a lot of stress, which is why you should always count on experienced plumbing specialists for your tub and shower repairs.
There are many warning signs that you should be on the lookout for when it comes to recognizing that it's time to update your shower, and below we'll be going over 6 common reasons why our clients hire us for shower repairs!
1. Leaky Fixtures
All types of plumbing leaks are bad news, because they'll add to your water bill and potentially lead to staining and mold development. There are sometimes some simple causes of shower leaks, including a loose-fitting shower head, worn seal or hard water buildup. These issues are generally straightforward to repair within a day or so, and our plumbing specialists will always get these jobs done as efficiently as possible.
However, there are certain scenarios in which a shower leak can be more complicated. This is particularly the case if your shower is leaking while it's off. This type of situation will require a plumbing specialist to diagnose and repair the issue, and if you notice leaking signs behind your shower wall then it's crucial to reach out to us immediately.
There will be many factors that come into play when we're fixing your leaky shower fixtures, and sometimes this issue may require an entire shower replacement in serious situations.
2. Mold Development
Your shower will always produce a warm, humid environment that supports mold and bacterial development. If you recognize any green or black spots throughout your tile, grout or shower fixtures, then you undoubtedly have mold in your home.
Mold is unsightly, but it's also very unhealthy and can cause respiratory problems, allergies and rashes. You can always remediate your mold issue as it comes up, but mold tends to be rather difficult to remove entirely. Mold can reach very obscure areas like behind you shower tiles and within your fixture's interior, and sometimes in these situations you'll need a remodel plumbing job to fully eliminate the mold.
3. Chipped Shower Tiles
Chipped or broken shower tiles are not only aesthetically displeasing, but they can also pose risks of cuts and other injuries. These cracks will also allow moisture to effectively seep through into your grout and tile and lead to deterioration and mold development.
The good news is that if you catch a chipped shower tile early, you'll be able to re-caulk and replace the broken tile before matters get worse. But there are some unfortunate scenarios in which this type of damage can lead to extensive issues, which will require re-tiling your shower.
4. Your Shower Door Is Broken
Many glass shower doors will show signs of wear and tear over many years of use, and then they'll inevitably need to be replaced. If your shower door has difficulty sliding or is allowing water to leak into your bathroom, then it's time to consider a new door.
You also should be on the lookout for any rusting around the handle and hinges of your shower door, and also try to recognize any cracks or chips in the glass. These types of shower door issues should never go neglected for too long, because they'll get worse and one day leave your bathroom floor covered in glass!
5. Your Shower Is Outdated
Even when everything is functioning properly and your shower has no damage, it's common for homeowners to feel like they're stuck in the 80s or 90s when they go to the bathroom. This may mean that it's simply time for an upgrade with your shower.
Shower materials also lose their finish over long periods of time and end up being a lot more difficult to thoroughly clean, and of course older shower head models aren't anywhere near as efficient as newer models.
The Beehive Plumbing team will help you recognize which upgrades are best for you and your bathroom so that you can be more energy efficient and obtain better aesthetics!
6. You Simply Don't Like Your Shower
The last common reason why you may need a shower repair is because you simply don't like your shower for any particular reason. Maybe a previous owner had some odd design choices, or you think that the functionality of your shower and bathroom isn't right for you.
But whatever the reason is for you not liking your shower, we'll help you change it!
Reach Out To Our Master Plumbers To Learn More About Our Shower Repair Services!
Beehive Plumbing has supported Northern Utah communities since 1999 with all sorts of plumbing repairs, and our team of Master Plumbers will be more than happy to help you with tub and shower repairs of all types.
Contact us online or call us at 801-661-8155 to get in touch with our team today and learn more!