Beehive Plumbing undoubtedly has some of the best plumbers in Salt Lake City, and here are some tips to help you as you're making your final hiring decision!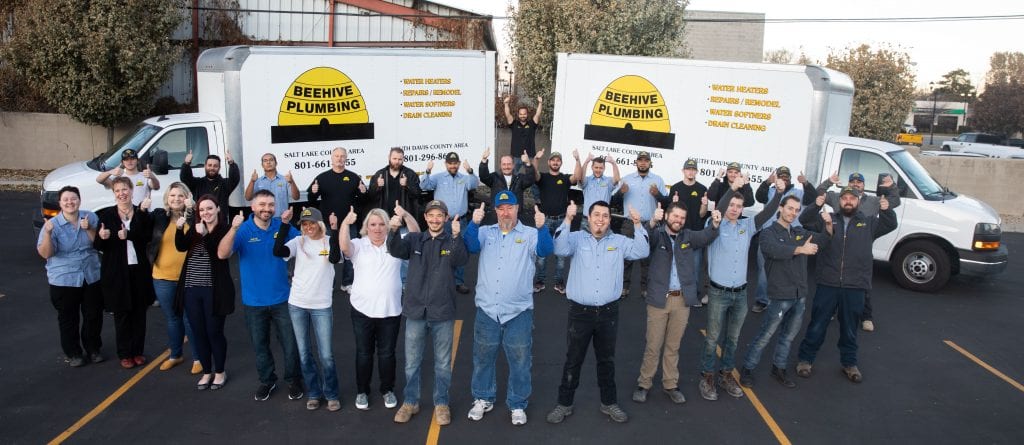 If your home experiences a plumbing emergency in the middle of the night, do you know who exactly you'll be calling to come get it fixed ASAP?
There's no doubt about it that it can be difficult to find the best plumbers in Salt Lake City, and this is partly because the entire local plumbing industry is oversaturated with different options to the point that differentiating any teams from one another can almost be impossible for the average Northern Utah resident!
So below are 6 tips to keep in mind as you're looking for a go-to plumbing team in the Salt Lake City area, and as always feel free to contact us to get directly in touch with our team and speak with one of our Master Plumbers.
1. Experience With Pipe Repairs In Salt Lake City
When it comes to all sorts of serious plumbing repairs, you're always going to want to put your trust in the hands of experienced specialists that have solved countless issues in the past.
That's why it's always a good idea to ask plumbing company representatives about how long they've been in service, and the types of plumbing repairs that they specialize within.
Beehive Plumbing has been serving the Salt Lake City Metro Area for many years, and our team consists of some of the best plumbing specialists throughout the entire region!
2. Get Recommendations
One of the best ways to find a good plumbing team is to ask your friends, neighbors and family about who they work with on a regular basis. Social media networks can also be useful tools when it comes to getting the recommendations and reviews that you need to feel better about hiring a specific plumbing team.
Good recommendations tend to be much more informative than online reviews, and we'll always be more than happy to put you in touch with some of our past clients who can vouch for the quality of our work!
3. Make Sure Your Plumbing Team Is Accessible
Another big factor to keep in mind while hiring a plumbing team is to ensure that you're working with a team of professionals that is accessible. If a plumbing company doesn't answer the phone when you call them, then you should at the very least have the ability to receive 24/7 services.
Response time to things like voicemails and emails is a big factor to keep in mind, and it doesn't hurt to ask plumbing companies about their response times. All reputable plumbing teams will be more than capable of quickly answering your questions/concerns, and they'll also let you know why certain appointment timeframes won't work.
At Beehive Plumbing, your needs are our needs as well; and we'll always be sure to treat your plumbing needs with the utmost urgency and detail that they deserve!
4. Proper Licensing And Insurance
The best plumbing teams will be able to easily provide licensing and insurance information oriented around their legal compliance to work within the state of Utah. What's important about this hiring factor is that you'll want to ensure that the plumbing team will compensate you in certain instances in which they damage something on your property.
So if someone is going to even touch your plumbing system and pipes, then you should confirm that they're 100% licensed and insured. Workers' compensation insurance is also something that you should verify with your plumbing company, because you'll want to make sure that they're covered just in case an employee gets hurt while working at your home or business.
And you can always be rest assured knowing that our team is 100% covered!
5. The Company's Reputation
Home and business owners also need to take a close look into a plumbing company's reputation, and one of the best ways to do this is through online reviews and social media platforms like Facebook.
The Better Business Bureau is another good source to look into to verify a plumbing company's reputation.
6. Price
Although pricing shouldn't be your first and foremost concern, we of course understand how most people want to obtain the highest quality plumbing services at the lowest available price. That's why it's very important to always be up front with your prospective plumbing partners when it comes to your overall budget, especially when it comes to things like remodel plumbing.
Our team will always be sure to provide you with accurate estimates and quotes when it comes to certain plumbing tasks, and sometimes we'll need to take an in-person look at your plumbing system to verify the price of our services.
And you can always know that you'll be getting the very best combination of both quality and affordability when you hire Beehive Plumbing!
Reach Out To The Master Plumbers At Beehive Plumbing To Learn More About How We're The Best Plumbers In Salt Lake City!
Beehive Plumbing has been serving the entire Salt Lake City community for many years now, and we take a lot of pride and gratitude in the long-term customer relationships we've developed over the years.
We understand just how important it is to get a more in-depth perspective about who you'll be working with for your plumbing repairs, so always feel free to contact us online or call us at 801-661-8155 to get in touch with our team and let us know what your home or business' plumbing system is currently experiencing!