Beehive Plumbing provides commercial plumbing services to countless businesses throughout Northern Utah!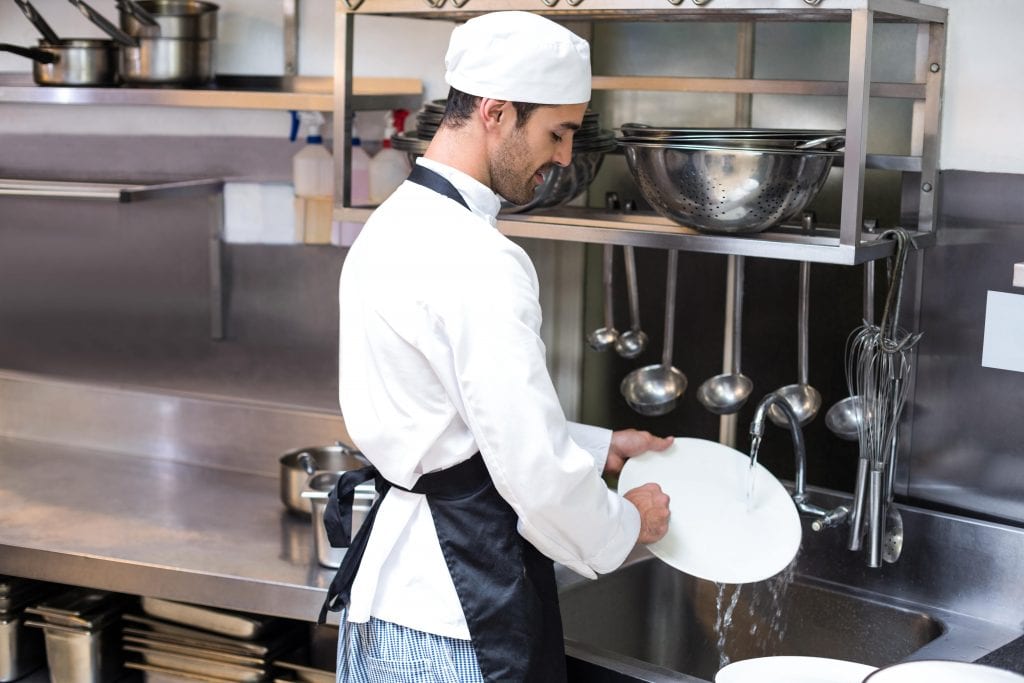 Commercial plumbing is many times very different as compared to residential plumbing, which is why every business in Northern Utah needs to have an experienced plumbing team like Beehive Plumbing in their contacts.
Bathrooms in offices, retail stores and warehouses tend to experience unique types of plumbing repairs as compared to homes, so it's important for business leaders to always be on the lookout for common warning signs associated with their plumbing system.
The Master Plumbers at Beehive Plumbing are here for you and your company's commercial plumbing system, and the following are 8 of the most common types of repairs jobs we perform for all sorts of businesses throughout Northern Utah!
1. Leaky Faucets
When you experience a faucet leak within your commercial plumbing system, you can actually end up wasting thousands of gallons within one calendar year. This type of sink plumbing repair will undoubtedly result in much higher water bills that are completely unnecessary if left untreated.
Leaky faucets also can many times result in water damages that can pose all sorts of structural damages and rather expensive repairs, which is why it's absolutely critical that you reach out to us when you notice any leaks within your pipes that are underneath your commercial property's sinks.
2. Clogged Drains
It's relatively common for people to be less polite while using commercial bathrooms as compared to residential bathrooms, and this lack of respect for commercial plumbing can lead to countless clogged drain causes.
There's no doubt about it that a clogged or slow drain will be a bad look for you and your business, so you can always count on our team to fully resolve your clogged drain issue and make sure that the clog is cleared for good!
3. Clogged Toilets
Although commercial toilets are considered to be harder to clog as compared to residential toilets, toilet repairs are still very common on commercial properties.
There are many instances in which plunging your company's toilet may not get the job done, and this is when you'll need professional plumbing snake services to thoroughly remove the clog.
And when a commercial toilet is clogging frequently, our team will utilize our pipe inspection camera technology to get a clear understanding as to what exactly is causing your consistent commercial toilet problems!
4. Running Toilets
There are some instances in which a running toilet will lead to what's called a "phantom flush", and other times toilets will simply not stop running. But no matter what your specific running toilet issue is, you're going to need to reach out to our experienced plumbers to stop the running.
Neglecting this type of plumbing issue will surely lead to higher water bills and higher chances of experiencing toilet clogs.
5. Malfunctioning/Broken Toilet Handles
Broken toilet handles and flushometer repairs of all kinds are very common commercial plumbing issues, and it's simply never good for a business' customer to experience a situation in which they can't properly flush.
Our team will help you install motion sensors and buttons to replace your traditional toilet handles if you'd like, and we'll always go above and beyond to ensure that any toilet handle malfunctioning is quickly and efficiently resolved!
6. Problems With Water Temperature
Commercial water heater repairs are very common throughout Northern Utah, and this is simply because commercial water heaters need repairs just like any other water heater.
What commonly occurs in Northern Utah is that a commercial water heater will experience a tremendous amount of sediment buildup, which then negatively affects a company's hot water supply. It's also common for these types of water heaters to be experiencing a leak, which can sometimes be repaired and sometimes will require a new commercial water heater installation.
7. Sewer Smells
Lingering sewer waste smells are of course going to be bad for your business, and it can also make your employees very unhappy as well.
That's why you should quickly contact us if you notice any of these smells emanating from your floor drains or other parts of your commercial plumbing system, and we'll get one of our 24/7 plumbing specialists to you as quickly as possible!
8. Low Water Pressure
Low water pressure issues are always very detrimental to a commercial plumbing system's integrity, and depending on what you do it could bring your entire operation to a screeching halt!
Although many low water pressure issues in Northern Utah are caused by sediment buildup, there are also instances in which a water main replacement is necessary to fully resolve this issue.
Reach Out To The Master Plumbers At Beehive Plumbing To Learn More About Our Commercial Plumbing Services!
Beehive Plumbing has supported countless commercial properties throughout Northern Utah, and we'll always be more than happy to speak with you and your team about how we can support your company's plumbing system for the long haul.
So always feel free to reach out to us online or call us at 801-661-8155 to get in touch with our industry experts and let us know what your commercial plumbing system is currently experiencing!