A burst pipe is a pretty serious plumbing emergency that is all too frequent in Northern Utah, so here are some prevention tips to keep in mind!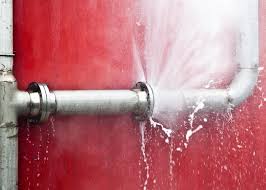 There's absolutely no doubt about it that a burst pipe is one of the most extreme plumbing emergencies that a home or business can experience, and the frigid winters in Northern Utah make this plumbing problem all too frequent.
The Beehive Plumbing team will always be able to support you when you experience a burst pipe through our comprehensive pipe lining services, however it's still extremely important for property owners to understand the many preventative steps that they can take to avoid these plumbing system catastrophes.
So below are 8 tips to help you prevent burst pipes, but let's first discuss how exactly burst pipes originate.
What Exactly Causes A Pipe To Burst?
The most common burst pipe scenarios occur when temperatures are cold and below about 20 degrees Fahrenheit. These cold temperatures will result in water supplies becoming cold and potentially freezing/expanding, which then subsequently leads to an increased amount of pressure throughout your property's pipes.
This increased amount of pipe pressure is what commonly results in a burst, and it's why your unheated areas like your garage, attic, basement or crawlspace are more vulnerable. But it's also important to note that many interior pipes can burst as well, particularly if they're on an exterior wall of your home or business.
But no matter what type of piping issues you're currently experiencing, we want to help you resolve them and put your entire residential or commercial plumbing system in a much safer position.
8 Tips To Help You Prevent Burst Pipes At Your Home Or Business
The following are 8 prevention tips to keep in mind so your home or business can avoid the unfortunate scenario of a burst pipe!
1. Don't Neglect Your Garden Hoses
As you're preparing to winterize your property, be sure to take the extra bit of time to disconnect and fully drain all of your exterior hoses. If you end up leaving your hose out during the winter months, it can cause the leftover water within the hose to freeze/expand, which then can be the first step towards a burst pipe at the location where your hose connects to your property's piping system.
2. Do Some Extra DIY Insulating
Things like heat tape and pipe insulation can always go a long way in terms of properly warming up your piping system during those bitterly cold winter nights.
Most local hardware stores will be able to provide you with foam insulation that you can rather easily wrap around your pipes, however heat tape may be a more high-tech solution for your plumbing system.
Heat tape insulation can sometimes be pretty tricky, so be sure to reach out to our Master Plumbers who can help you out with this type of prevention method.
3. Make Sure To Always Keep Your Garage Doors Closed
This is particularly important if you just so happen to have supply lines within your garage!
4. Keep Faucets Running (When It's REALLY Cold Out)
This is a burst pipe prevention strategy to keep in mind when you know it's EXTREMELY cold outside. What you should do is simply leave a few faucets slowly running with cold water, and this is because keeping water moving through your pipes will always go a long way towards preventing any freezing or bursting.
You may experience an uptick in your monthly water bill from doing this prevention method, but it'll undoubtedly be a lot cheaper than if you were to experience a plumbing emergency like a burst pipe!
5. Leaving Cabinets Open
A lot of people think that their under-the-cabinet, indoor piping lines are safe from bursting due to cold weather being the main culprit of this plumbing emergency; however, you'll be surprised by just how little warm air will reach these pipes!
That's why you should always consider opening your cabinet doors to provide more warm air towards these particular pipes, but just be careful of any hazardous cleaning supplies being susceptible to small kids and pets!
6. Being On The Lookout For Leaks
Recognizing plumbing leaks can be a lot easier said than done for the average homeowner, but it's still important to simply take a look at your pipes on a regular basis to potentially identify any problematic areas.
This can include things like loose connections, cracks, or really anything that may make a pipe vulnerable. You should also look into sealing any leaks within your home's foundation that may be bringing cold air inside.
You should also be closely examining your dryer vents, electrical wiring, window/door areas and of course your pipes. Even the smallest air openings can bring enough cold air into your property to lead to a burst pipe, so it's important to be as diligent as possible with your personal inspections!
7. Keeping Your Furnace Running
Although this prevention method could lead to a higher heating bill, it's a lot more economical as compared to experiencing a serious plumbing emergency. It's also important to keep your thermostat set to at least 55 degrees, and this includes when you're not home as well.
8. Keep Your Pipes In Mind While You're On Vacation
One of the best things you can do when your family goes on vacation during the winter months is to shut off your main water valve. If your pipes don't have a water supply while you're gone, then they'll be much less likely to freeze and potentially burst!
Reach Out To Beehive Plumbing To Learn More About How We Can Help You Prevent And Resolve Burst Pipes
Beehive Plumbing has supported the Northern Utah area for over 20 years, so we've seen our fair share of burst pipes. Our team of specialists will always be there for you when you need us most in an emergency situation, and we'll also help you prevent these plumbing catastrophes from happening in the first place.
So always feel free to reach out to us online or call us at 801-661-8155 to get in touch with our team and let us know what you're currently experiencing with your property's pipes!