Tankless water heaters make it possible for homeowners to never run out of hot water, and here are some important tips to keep in mind when making these types of home improvement investments!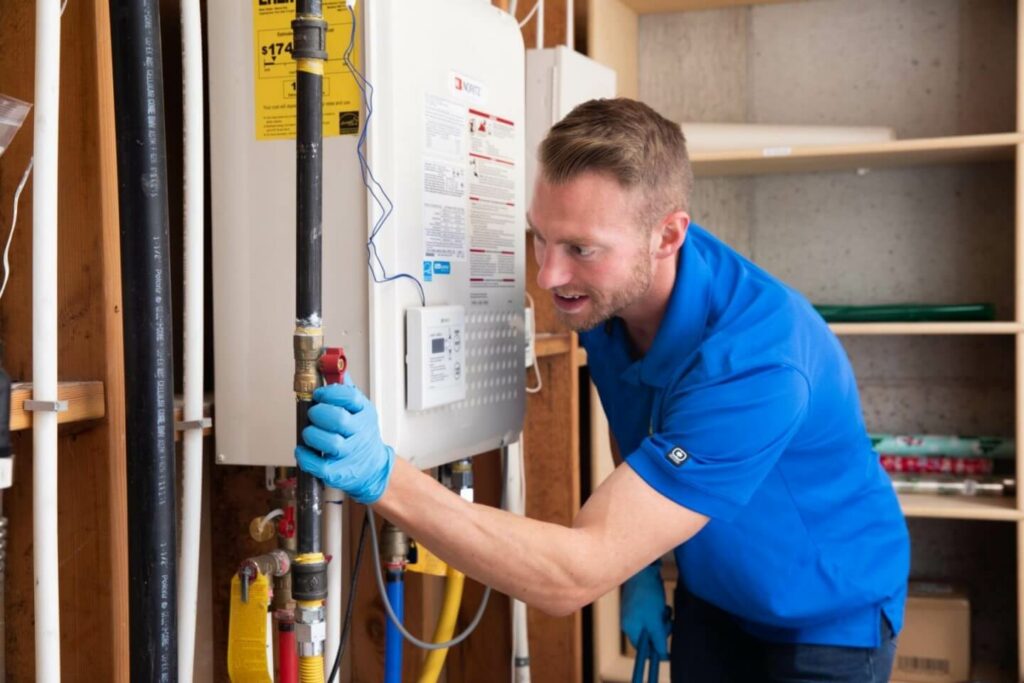 It's very common for homeowners to have no idea where to start when they're in the market for tankless water heaters, and if this is the case for you then you've come to the right spot online! There are many different benefits associated with tankless water heaters that we'll discuss below, and the Master Plumbers at Beehive Plumbing have come together to provide this comprehensive guide towards shopping for tankless water heaters.
So here are the 8 tips you should keep in mind!
1. The Common Benefits Associated With Tankless Water Heaters
The following are just some of the many different benefits of utilizing a tankless water heater within your residential property:
Takes Up Less Space
Most people are used to rather bulky gas water heaters that take up a lot of room in your basement or crawl space, but tankless water heaters aren't storing hot water in them for future usage. Because they are capable of instantly producing hot water, they end up being really sleek devices that you simply attach to a wall!
Limitless Hot Water Supply
Tankless water heaters are well-liked by many because of their abilities to provide limitless hot water, and you really can continuously run hot water for as long as you need to.
A lot of people choose tankless water heaters because their household worries about multiple showers taking up the hot water supply, and with tankless water heaters this is never an issue!
Longevity
It's become well-known throughout the plumbing industry that tankless water heaters have about twice as long of a lifespan as compared to more conventional water heaters. Most tankless water heaters will last upwards of 20 years or more!
Reduced Utility Bills
Tankless water heaters are also very energy efficient, and they don't waste energy by storing hot water for future usage like tanks do! Many homeowners can cut their monthly water bills down by about 50% when they get a tankless water heater.
2. Understanding Your Best Size
One of the first and foremost concerns that Utah homeowners have when they're shopping for tankless water heaters is what size would work best for them, and it's important to note that your household probably uses a lot more daily hot water than you'd probably assume!
Tankless water heaters are much different as compared to conventional water heaters when it comes to choosing sizes, and you'll have to keep in mind British Thermal Units (BTUs) to help determine a specific unit's overall efficiency.
Here are some of the more intricate considerations to keep in mind:
BTUs
The basic equation with BTUs is that one BTU will provide the necessary amount of energy to increase one pound of water by one degree, so it's a general rule of thumb that higher BTUs will result in higher water flow and temperature.
Gallons Per Minute (GPM)
One of the first things you'll want to look into when it comes to GPM is how many plumbing fixtures will need hot water within your home, and how many of these fixtures may be needed simultaneously.
When you add the GPM of all the devices you may need at once, you can get a better idea as to how much GPM power you'll need from you tankless water heater.
Temperature Calculations
Understanding your household's current water temperature and your desired water temperature is an important metric to keep in mind, because comparing your desired temperature with a tankless water heater's flow rate will provide a clear understanding in terms of how a water heater will meet your specific demands.
3. Closely Consider Warranties
It's always important for homeowners to closely look over warranties of potential tankless water heater investments, because you'll always want to have an extended warranty that covers any potential maintenance needs.
It's also important for homeowners to understand that their home's actual water quality is an important factor in terms of tankless water heater longevity, and many times it's necessary for homeowners to also invest in water softeners.
4. Overall Efficiency
It's true that all tankless water heaters will end up being much more efficient as compared to conventional water heaters, but within this specific niche there can be variations in efficiency. This is why you should always look into your potential water heater's Energy Factor (EF) rating.
The general rule with EF ratings is that the higher the rating, the more efficient the tankless water heater will be.
5. Gas Water Heaters
Gas water heaters can also be tankless, and these types of water heaters will always go a long way when it comes to providing homeowners with fast heat output and response time.
It's important to keep in mind that there are many great benefits of gas-powered tankless water heaters, but that these units will typically end up using more gas than conventional water heaters. These units also utilize an ignition, and there are three different ignition types to choose from, including:
6. Electric Water Heaters
Electric water heaters many times come in tankless forms, and for the most part electrically powered tankless water heaters are cheaper than their gas-powered counterparts. Electric water heaters also tend to be much more environmentally friendly and more efficient as well.
Electric water heaters also have a much more simplified design interface, which makes them much easier and cheaper to repair.
7. Your Home's Climate
There's no denying that Northern Utah has many different climates within it, and your home's climate will always be a major factor in terms of deciphering which type of tankless water heater unit is right for you and your household.
The main thing Northern Utah homeowners need to be concerned about is how cold their incoming water supply is, which in the mountains can sometimes be very cold! Cold incoming water can subsequently lead to a lower GPM and efficiency.
8. Maintenance
Tankless water heater maintenance will vary depending upon which type of unit you have, so below are some considerations to keep in mind:
Electric Unit Maintenance
Electric units are known for needing very little maintenance, and many times the main upkeep you'll need to do is simply cleaning out the water inlet. But besides this, electric tankless water heaters require little to no regular maintenance.
Gas-Powered Unit Maintenance
Gas-powered tankless water heaters will typically require at least a little bit more maintenance as compared to electric units, and will require regular inspections to make sure everything is running smoothly.
Reach Out To The Beehive Plumbing Experts To Learn More About Our Inventory Of Tankless Water Heaters!
Beehive Plumbing has been helping Utah homeowners for many years when it comes to installing and maintaining tankless water heaters. Our team of experts is always here for you when it comes to better understanding which options are best for you and your household, and we'll always provide an unbridled combination of both quality and affordability with all of our plumbing services.
So feel free to reach out to us online or call us at 801-661-8155 today to get in touch with our team and let us know how we can support your shopping efforts towards finding the perfect tankless water heater for your home!