It's important for northern Utah households to consider boiler maintenance this time of year!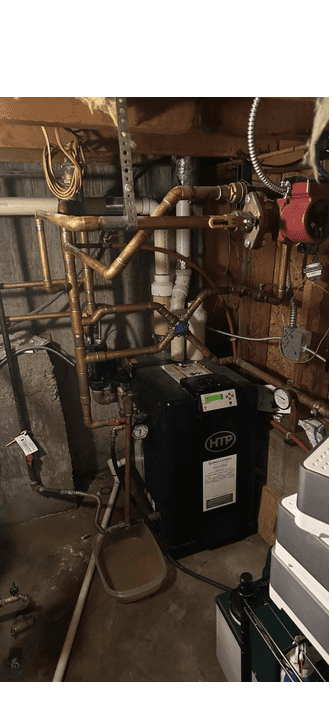 Beehive Plumbing's Master Plumbers are experienced specialists that are capable of providing a comprehensive suite of boiler maintenance services for homes and businesses throughout northern Utah.
We support all boiler brands and systems, and we'll help you with any and all boiler installations, repairs, inspections, and replacements. We truly are a one-stop-shop when it comes to boiler services throughout the northern Utah region, and we understand just how important it is to invest in boiler maintenance during the fall months as your property prepares for our inevitably harsh winters.
Below is an overview detailing the boiler services that we can support your northern Utah home with this fall!
Boiler Repairs
Has your boiler been acting up lately, or even left your home chilly during recent cold spells? If your home's energy bills are suddenly going up this month, it could mean that there's something wrong with your boiler system. If this is the case, the good news is that the Beehive Plumbing team is here to help you out!
We've seen all sorts of boiler issues throughout our region, so there's no boiler repair that's too big or small for our experts. Our fully certified boiler specialists are trained to address many common boiler dilemmas, including:
Water leaks
Low water levels
Pilot light issues
Insufficient heating
Faulty thermostats
Radiator heating issues
Odd boiler noises
Frozen condensate pipes
And much more!
If you're noticing any of the above issues with your home's boiler, then you should reach out to our team as soon as possible. Boiler problems don't just repair themselves, and they generally get much worse with time!
Boiler Replacements & Installations
There are some scenarios in which a boiler repair simply won't cut it in terms of restoring a home's system back to a normal functionality. This is often the case when your boiler is approaching the end of its service lifetime (10-15 years), or when your boiler is experiencing major issues to multiple components.
Our Master Plumbers will help you weigh out your best options when you're dealing with boiler issues, and we'll let you know when it makes more sense to replace your boiler and install a new one. And when you do decide to invest in a new boiler system installation, we'll keep the following in mind:
The right size and type for your new boiler, based upon your property's needs and your financial budget.
Safe removal and disposal of your existing boiler system.
Proper hook up and installation of your new boiler, as well as comprehensive tests that ensure correct performance and safety.
It's sometimes difficult for northern Utah homeowners to recognize when it's time to consider a boiler replacement, so below are some common warning signs that it may be time to move on from your existing boiler system:
Your boiler is over 15 years old.
Your boiler's pilot light is yellow, as opposed to blue.
Your current boiler system isn't keeping up with your household's heating needs.
Your current boiler is creating increasingly more expensive energy costs and consistent repair bills.
It's important for northern Utah residents to remember just how far heating technology has advanced in recent years, so your home can undoubtedly benefit from an energy-efficient boiler upgrade!
Boiler Maintenance & Inspections
By investing in regular boiler inspections and maintenance appointments, you can maintain the overall reliability and efficiency of your home's system each winter. Some of the features of our annual boiler inspections include:
Identifying minor issues, and fixing them.
Helping you avoid unexpected boiler breakdowns that could potentially leave your property feeling dangerously cold this winter.
Prolonging the lifespan of your boiler system, and maintaining your system's active warranty.
Our certified boiler technicians are some of the best in the state, and we'll do so much more than just examine your boiler system. When you hire us for your boiler maintenance, you can also expect the following during your inspections:
Verifying the boiler's age and overall condition
Testing the boiler's performance and operational capacity
Inspecting the boiler system's ignition, pumps, valves, and other components.
Checking the boiler's ventilation and flue.
Testing for potential carbon monoxide production
And a lot more!
Schedule Your Boiler Maintenance Appointment With Beehive Plumbing Today!
Beehive Plumbing is one of the leading plumbing businesses located in northern Utah, and our esteemed boiler system specialists are here to support you while you're preparing your property for the upcoming winter season.
Get in touch with us online or give us a call at 801-849-3834 to schedule your next boiler maintenance appointment today!