We've unfortunately had to re-do many new construction plumbing mistakes, so here are some red flags to be on the lookout for prior purchasing a home!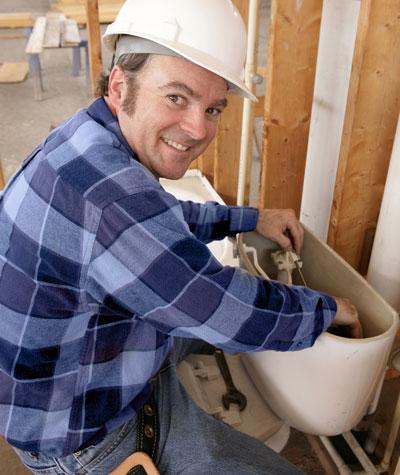 The housing market in northern Utah has exponentially grown throughout the past few years, and this has a lot to do with remote workers leaving cities behind to live in our beautiful region. This is great for our new construction plumbing economy, but it also sometimes leads to hasty construction mistakes.
No one wants to purchase a brand new home and find plumbing mistakes shortly afterwards, because this is always a major inconvenience. This is why we've developed this article detailing what homebuyers should be on the lookout for while examining brand new plumbing systems!
Common Symptoms of New Construction Plumbing Issues
Although there are many different symptoms associated with new construction plumbing problems, below are some of the most common to be on the lookout for while browsing new homes for sale in northern Utah:
Slow Drains
If you notice any showers, sinks or toilets draining slowly in a brand new home, it's an indication that the plumbing system was improperly installed or was possibly installed with a blockage. This could be due to improper pipe sloping, mineral buildup, or any other type of inadvertent construction debris.
So, if you love a house but are concerned about the drains, be sure to have it inspected quickly before you're the one who has to pay for the extra repairs!
Gurgling Sounds
If you're hearing any abnormal gurgling sounds originating from toilets or other plumbing fixtures, then it's a red flag that air is being trapped within the home's pipes. This could be caused by blockages, improper venting installation, or other issues connected to the drain pipes.
Although gurgling noises occur in many residential plumbing systems, homebuyers should never neglect them!
Bad Smells
Any bad smells that come from a plumbing system are an indication of sewer line dilemmas, which can include a malfunctioning sewer vent, leaks, and other types of blockages.
There's absolutely no denying how unpleasant these types of smells are, and what's even worse is that these odors can potentially pose health hazards as well. This type of plumbing issue is never acceptable, particularly from a new construction project!
Water Backups
When water isn't flowing freely within a new home's plumbing system, it's usually connected to an improper pipe installation. These types of backups are bad enough as they are, but they can get even worse when they lead to water damages.
What Are Some Of The Most Common New Construction Plumbing Mistakes?
New construction plumbing projects come with all sorts of challenges, so mistakes simply happen sometimes when less experienced teams are on the job. Some of the most common new construction plumbing mistakes include:
Insufficient Project Planning
Inadequate project planning will typically lead to installation mistakes, which frequently will include issues like incorrect pipe placement or using the wrong pipe sizes.
Comprehensive planning is crucial for every new construction plumbing project, and even the tiniest of mistakes can mean trouble for homebuyers!
Incorrect Material Usage
When a plumbing team uses the wrong materials during a construction project, it can end up resulting in significant problems. A common example of this would be to mix galvanized steel pipes with copper pipes, because this can lead to leaks, corrosion, and water damages.
Bad Pipe Connections
Proper pipe connections are absolutely vital when it comes to maintaining the integrity of a brand new residential plumbing system. The most common construction mistake associated with pipe connections is a plumbing company utilizing incorrect soldering processes, which will often lead to low water pressure and other plumbing abnormalities.
Faulty Installations
Faulty plumbing installations can create all sorts of issues in new homes. A common example of this would be when a plumbing team uses the wrong pipe sizes or configurations.
Low-Quality Plumbing
Low-quality plumbing generally refers to substandard materials, fittings and fixtures, which can make new systems more susceptible to corrosion, cracks, and water supply disruptions.
Improper Insulation
This is particularly an issue here in northern Utah, because improper pipe insulation in our cold climate can commonly result in frozen pipes. And when pipes can more easily freeze up, they'll subsequently be more susceptible to bursting—and the disastrous water damages that come with these emergency scenarios.
Incomplete Plumbing Tests
There are also some cases in which a new construction project doesn't get tested as much as it really needs to be. This results in undetected issues like faulty connections and leaks.
When plumbing tests are done thoroughly, it can leave new homebuyers in a very precarious situation in which footing the repair bill is on them!
What Are The Most Important Areas For A New Home's Plumbing Inspection?
If you're interested in purchasing a new home and are going to ensure a thorough plumbing inspection, you should make sure that the following household areas are closely examined:
Main Water Supply
Interior plumbing fixtures
Exterior plumbing
Pipe connections
Sewer lines
Septic tank
Contact Our Master Plumbers When You're Looking For New Construction Plumbing Services!
Beehive Plumbing is one of the leading plumbing companies based in northern Utah, so we've helped out with countless new construction plumbing projects in recent decades. Our Master Plumbers are some of the best in the entire industry, and we've quickly become the go-to option for countless homeowners and contractors in need of top-quality services.
Contact us online or give us a call at 801-849-3839 to get in touch with our team today and let us know what your construction plans are!