New construction plumbing can pose plenty of potential problems, so it's important to know what to be on the lookout for!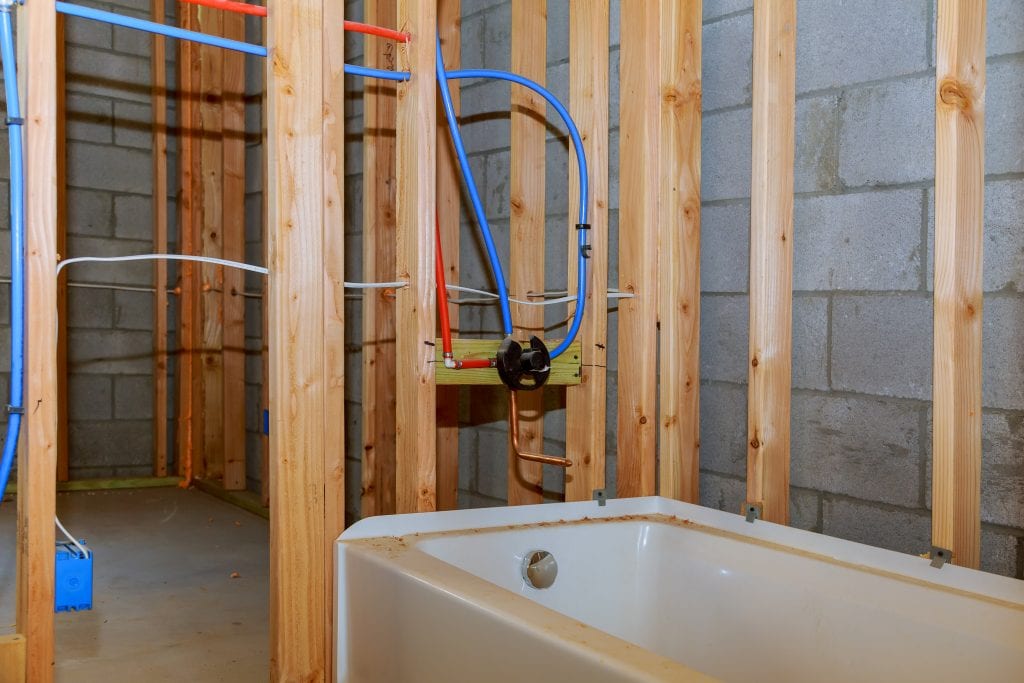 All of us at Beehive Plumbing understand just how incredible of a feeling it is for new homes to be built and renovated for Northern Utah families, and we also know how easy it is to simply assume that everything is in perfect condition during the construction process. However, it's important to remember that new construction and new homes don't exempt properties from plumbing issues, and this is why it's so important for be on the lookout for new construction plumbing repairs by hiring specialists to do proper plumbing inspections.
Being well aware of potential plumbing problems can end up saving you a ton of money and future headaches, and below we're going over common new construction plumbing issues that you should be watching out for!
Common New Construction Plumbing Problems Within Residential Homes And Commercial Properties
The following are some of the most common issues that new construction projects experience from a plumbing standpoint:
1. Clogged Pipes
There are various reasons why clogged pipes can be rather troubling for new construction projects, and these types of plumbing issues are generally warning signs for future plumbing problems at the property. Some of the potential issues that clogged pipes may allude to include foul smells and sewage backups.
Tree root infiltration just so happens to be one of the most common causes of clogged pipes throughout Northern Utah, but of course home builder neglect, improper installation and cheap materials can also commonly cause these issues. It's also possible for clogged pipes to develop into more difficult fixes when they involve municipal sewer systems that are adjacent to your property.
2. Drain Blockages
It's common for clogged pipes to go hand-in-hand with drain blockages, and various construction plumbing substances can cause these types of drain issues. Some of these substances include things like discarded grease, random debris, leftover food, and building materials.
Although every drain blockage is a serious plumbing problem that needs to be quickly addressed, these common issues become much more serious when wastewater and other toxic substances become involved. If your property has a well water system, these substances can potentially contaminate the home's water supply and impact your property's drainage areas.
Liquid buildup within your pipes can also occur in these scenarios, which will ultimately lead to a weakening of your property's structural integrity.
3. Faulty Water Heaters
New homes will many times experience water heater issues, and this commonly includes situations in which the water coming from the unit isn't quite hot enough for comfortable showering and dishwashing.
Water heater repairs can put families and businesses in challenging spots, and some of the common root causes for faulty water heaters in newly-built properties is poor installation and leaky pipes. It's also possible for the unit's internal thermostat to be faulty, and sediment buildup within a water heater tank is a very common issue throughout Northern Utah.
No one wants to experience water heater problems right after a major home construction project, which is why you need to put your trust in experienced Master Plumbers who can ensure the overall functionality of your water heating system.
4. Leaky Faucets
Leaky faucets will often be overlooked even as new construction projects are underway, but the truth is that leaky faucets can potentially develop into a new construction plumbing disaster.
One common issue associated with leaky faucets is an increase in your water bill, which can add up tremendously in commercial properties like apartment buildings where many faucets are leaking.
5. Running Toilets
Toilet valve issues will also be detrimental for your monthly water bills, and these plumbing problems can end up wasting a tremendous amount of water on a daily basis.
This is why it's so important to properly replace a damaged flapper with the support of professional plumbers who can also thoroughly inspect your toilet for any other underlying issues.
Contact The Beehive Plumbing Team To Learn More About New Construction Plumbing Issues!
Beehive Plumbing is your go-to source for new construction plumbing services, and we'll always go above and beyond to ensure the plumbing system of your new property.
Contact us online or call us at 801-661-8155 to speak with our new construction plumbing specialists today!