Tankless water heaters are very popular throughout Northern Utah, and below we're going over the main differences between traditional water heaters!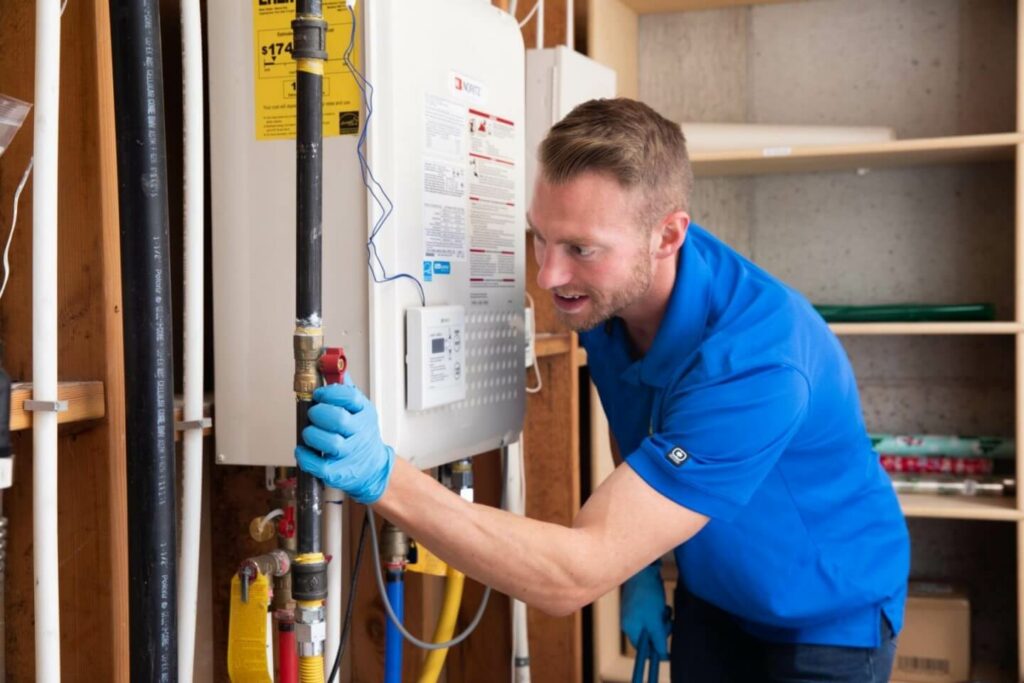 It's likely that you've already heard about the two main types of water heaters, traditional tank water heaters and tankless water heaters. We've supported countless home and business owners when it comes to investing in both types of water heaters, and we're often asked which type of water heater is better than the other.
The truth is that answering this question isn't so simple, because both tankless and traditional water heaters have their unique advantages and disadvantages that you should be aware of. When it comes down to your next water heater purchase, your best option will largely depend upon your unique needs and what exactly you're looking for in this valuable home improvement investment.
The good news is that you'll be working with esteemed Master Plumbers during your water heater installation with Beehive Plumbing, which means we'll thoroughly examine your property and ask you many questions to ultimately provide our recommendations. Below we'll be going over an overview comparing both popular water heater types so you can better know what's right for you!
What You Need To Know About Tankless Water Heaters vs. Traditional Water Heaters
There are many different factors that come into play when a property is investing in a new water heater, but below we'll be detailing four very important factors that you must keep in mind: energy efficiency, repairs/installations, water heater size and comfort.
Energy Efficiency
Both tankless and traditional water heaters can utilize several different fuel sources, including electricity and gas. What's great about today's water heater industry is that you'll certainly be able to find energy-efficient models no matter which type of system you're interested in.
However, it's important to note that you'll always obtain much more efficiency when you invest in a tankless water heater. Traditional water heaters utilize a tank that needs to be reheated again and again until you're ready to have warm water, which subsequently consumes a ton of energy when you aren't necessarily in need of it.
Tankless water heaters are much different because they only heat water as you demand it, so you'll only be utilizing your home's energy as hot water travels through your pipes to your showers and faucets. This can end up saving you A LOT on your monthly energy bills!
Repairs & Installations
What's good about both traditional and tankless water heaters is that both models are relatively simple to install, but it's important to note that tankless water heater installations tend to be more expensive as compared to traditional water heater installations.
It's also important to know that tankless water heater repairs tend to be more expensive as well, and this is largely because of the overall complexity of the water heating system. However, tankless water heaters rarely need to be repaired and require much less overall maintenance as compared to traditional water heaters.
There are many instances in which tankless water heaters are a better overall investment because they can last much longer (20+ years), as opposed to a traditional water heater lifespan that's around 10-15 years.
Water Heater Size
Another great advantage of tankless systems is that they're incredibly small, which subsequently makes them much easier to access. Traditional water heaters come in many different sizes, and this is because certain tank sizes are needed to meet each home or business' water needs.
If you live in a home with just 1 or 2 people, then you'll only need a water heater tank that holds around 23-36 gallons; however, if you live in a large home with multiple people then you'll need a 50-80 gallon tank.
When it comes to tankless water heaters, the important thing to keep in mind is flow rate. This is measured in gallons per minute (GPM), and the larger your property, the higher GPM you'll ultimately need.
Comfort
Although it may seem like a tankless water heater is the best solution for your home due to the fact that they can supply a limitless amount of hot water on-demand, it's actually been found that tankless systems aren't the best option for larger households. This is mainly because tankless water heaters aren't quite powerful enough just yet to simultaneously provide hot water to many different places throughout a home.
But the good news is that the Beehive Plumbing team has access to the most state-of-the-art plumbing technology on the market, so we can undoubtedly find both tankless and traditional water heaters that are good options for both small and big homes!
Contact Beehive Plumbing Today To Learn More About Our Traditional & Tankless Water Heaters!
Beehive Plumbing is comprised of the very best plumbing technicians in the Northern Utah region, and we have specialists all throughout the area to support you no matter where you're located.
Contact us online or call us at 801-661-8155 to get in touch with our water heater specialists today and let us know what questions you have for your next installation!