Water heaters don't last forever, and eventually you're going to need a water heater replacement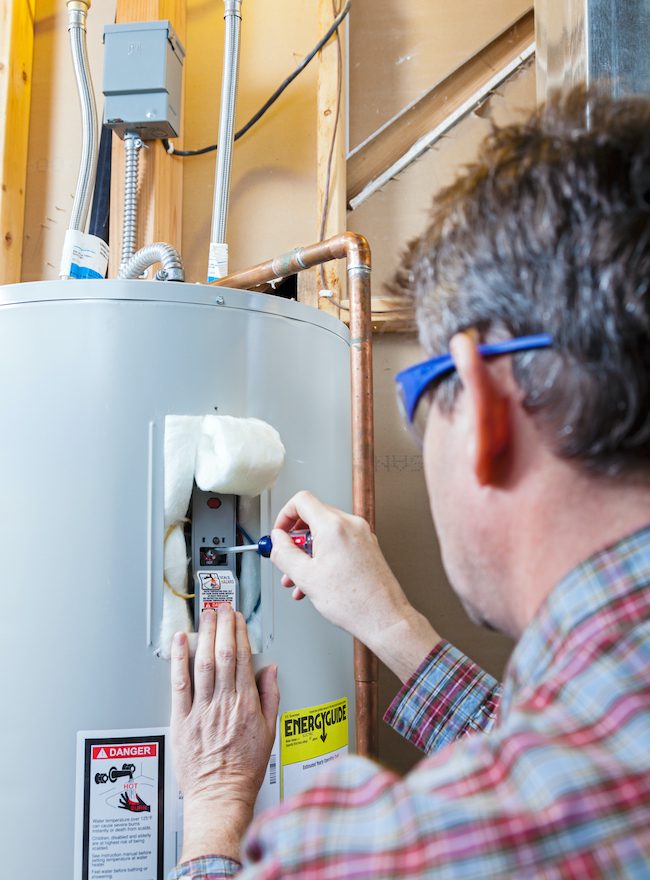 Your home's water heater is undeniably one of the most vital appliances within your entire plumbing system, and this is partly because we use our water heaters on a daily basis. Due to this daily usage, your water heater is likely to wear down after many years. A water heater replacement is always going to be an expensive home improvement investment, so it makes sense that you'd like to prolong your water heater's life as much as possible.
Below we'll be going over how long the average water heater lifespan is, as well as some tips to keep in mind when it comes to sustaining your home's water heater for many additional years. We understand how important it is to maximize the overall value of your water heater investment, so keep reading to learn more about how you can keep you water heater reliably running when it's getting old!
How Long Will My Home's Water Heater Last?
Water heaters don't come with any kind of expiration date, and water heaters also don't have any kind of indicator that will let you know when they're beginning to fail. That's why the answer to this common question isn't necessarily straightforward.
Water heaters that are used less on a daily basis and are cared for correctly will undoubtedly last a long longer as compared to water heaters that receive little to no attention. However, the general rule of thumb is that water heaters will last anywhere between 10-15 years.
How You Can Extend Your Water Heater's Life
It's your best bet to begin planning for your water heater replacement when your water heater is around 10 years old, unless you've been properly maintaining it on a yearly basis. A water heater replacement can be over $1,000 when you add everything together like installation fees and taxes, which of course is a lot for a household to pay every decade.
The good news is that you can extend your water heater's life by providing it with some extra care and attention on a regular basis. The longer your water heater lasts, the more you're maximizing this appliance investment and ultimately saving on home improvement finances.
The first thing you can do to extend your water heater's lifetime is to monitor your household's overall water quality. The water your property receives from public water connections or a well system can many times include high concentrations of calcium, magnesium and other minerals that alter your water's pH levels. This can lead to mineral crystal and residue accumulation within your water heater tank, which can contribute towards a faster appliance deterioration.
Another important thing that homeowners should monitor is their property's water pressure, because water pressure is many times referred to as "the silent killer" towards residential plumbing systems. Too much water pressure can wreck havoc throughout a plumbing system, and this includes wearing down your water heater's lines and leading to blown seals, leaking gaskets and tank leaks. This is why it's important to have your home's water pressure tested on a yearly basis, and have your water pressure regulator replaced when needed.
It's also critical to flush out your water heater on a regular basis to eliminate any excess mineral buildup within the tank. Minerals will always sink to the bottom of your water heater tank, and these heavy minerals can turn into crystals and pose serious issues. Flushing out your tank is an easy way to remove these troublesome substances and maintain your water heater's overall efficiency.
Consider Getting A Tankless Water Heater
Standard water heaters are simply a part of the problem when it comes to overall longevity, which is why many households throughout Northern Utah have made the switch to tankless water heaters. What's great about tankless water heaters is that they'll heat up your home's water on demand, which means that you won't necessarily have the same types of issues that traditional water heaters have. You'll also never run out of hot water with a tankless water heater, and you'll likely save a ton of money on your monthly energy bills as well!
Tankless water heaters are also known to be very durable, and they generally can last around 20-30 years. Tankless water heater repairs are rare, but they do sometimes happen. The good news about these repairs is that they're generally very affordable as compared to traditional water heater repair jobs.
Reach Out To The Beehive Plumbing Team To Learn More About How You Can Extend Your Water Heater's Life And Avoid A Water Heater Replacement!
Beehive Plumbing will always be there for you when you undoubtedly need a water heater replacement, but we'll also go above and beyond to ensure that your existing water heater can get at least a few more years of reliable usage.
Reach out to us online or call us at 801-661-8155 to get in touch with our Master Plumbers today to learn more about extending your water heater's life!