ManaBloc Plumbing System in Salt Lake City, Utah
Whether you're building a new home or improving your current home or business, Beehive Plumbing is the right choice for your Salt Lake City, Utah, plumbing needs. Our professionals at Beehive Plumbing can install and repair waste disposal systems, water supply lines, dishwashers, washing machines, ice makers, sinks, and fixtures to keep your home or business running the way you want it to run. We guarantee our services 100 percent!
What is a ManaBloc Plumbing System?
A ManaBloc Plumbing System is water distribution system that assigns a PEX pipe to each individual fixture in the home, eliminating "competition" for hot water or water pressure. The ManaBloc Plumbing System is requested most often at Beehive Plumbing due to the benefits it affords to our clients.
Benefits of the ManaBloc Plumbing System
Many of our clients choose to switch over to a ManaBloc Plumbing System or install this system in their new homes because of the unmatched benefits it delivers. The first of its kind, this water distribution system offers a number of benefits: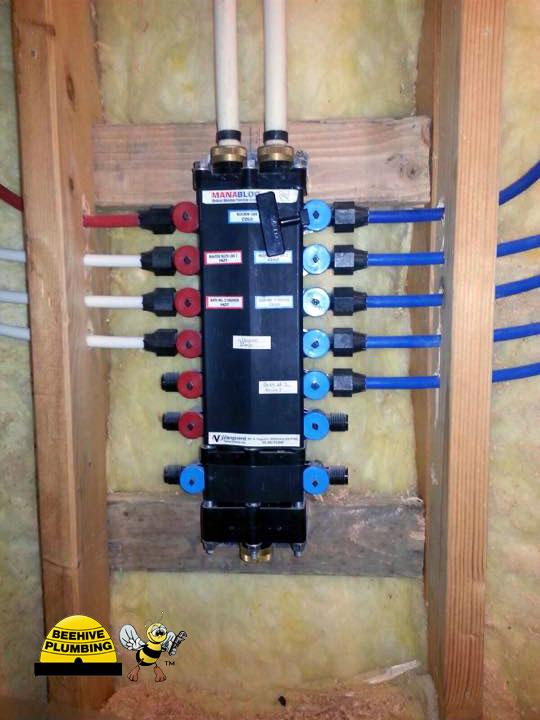 Is the ManaBloc Plumbing System More Expensive?
The ManaBloc system is comparable in cost to other plumbing systems but saves you money over time through increased efficiency and reduced water waste. Additionally, because the system is simple to install and resistant to corrosion, many of our clients find that they save money on long-term maintenance and repair of the system.
How Do I Choose a ManaBloc Plumbing System?
Because very few of our clients are well-versed in plumbing, we dedicate time and resources to counseling you through the process. We're happy to assist our clients in choosing the plumbing system that meets their needs and their budget. The first step in choosing a system is determining your goals and needs, including how many people will use the system, whether its being placed in a commercial building or residence, and more. Once we know your plumbing budget, the reason for replacing your current system if applicable, and what you're hoping to get out of your new system, we can share your options with you including everything you need to know about pricing, features, and maintenance.
Who Installs the ManaBloc Plumbing System in the Salt Lake City Area?
Beehive Plumbing provides ManaBloc plumbing installation, repair, and maintenance in Salt Lake City, Utah, and the surrounding area. Whether you need a new ManaBloc Plumbing System installed or your current system maintained or repaired, master Beehive plumbers are qualified and available 24/7 to meet your needs. We take pride in providing quick, quality, and trustworthy plumbing services, which we think you'll feel confident in after reading our reviews, available on our website for your reference. We offer financing to make it easier to get your ManaBloc plumbing system installed as well as coupons for different plumbing services. Contact us today to discuss your needs and options and schedule an appointment.