Our Master Plumbers are remodel plumbing experts that can help you with sink installations and repairs!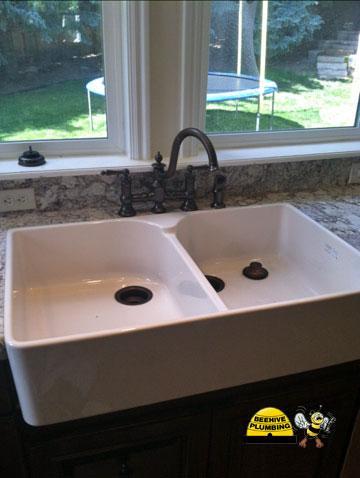 Are you planning a bathroom remodeling project or simply looking to upgrade your sinks? If so, then the good news is that you'll now have more plumbing appliance options than ever before! However, we also understand how your surplus of options can make things tougher on your remodel plumbing project!
The Beehive Plumbing team has you covered when you're in the process of replacing your kitchen and/or bathrooms sinks, and our experienced Master Plumbers will help you when it comes to matching aesthetic tastes and ensuring the overall ambience and functionality of your bathroom or kitchen.
There truly is so much that goes into these types of installation projects, because your sinks are directly attached to other plumbing appliances and the interconnected web of your entire plumbing system. Below we'll be going over different types of bathroom and kitchen sinks so you can have a better idea as to what may be the best options for you and your property!
Popular Bathroom Sinks For Northern Utah Homes & Businesses
Some of the most popular types of bathroom sinks that we supply our clientele with include the following:
The Drop-In Sink
Drop-in sinks are widely popular throughout Northern Utah in both residential and commercial plumbing systems, and one big benefit of these sinks is the simplified installation process. Many drop-in sinks can literally be "dropped in" within your existing countertop.
Drop-in sinks tend to be incredibly affordable, and our team of experts is always here for you when you're looking for this type of model.
Undermount Sinks
Undermount sinks are a little different than drop-in sinks in that they're mounted below your countertop, which means they're not quite as easily installed as drop-in sinks. These types of sink installations undoubtedly require the expertise of a plumbing specialist, and undermount sinks are very popular all throughout the Northern Utah region and beyond.
One thing you need to keep in mind about these sinks is that you'll require a sturdy vanity for the installation process, and our experts will help you determine whether or not this type of customized design is right for you and your budget.
Vessel Sinks
Vessel sinks have become incredibly trendy in recent years, and this is largely because they provide an unparalleled sense of minimalistic aesthetics. These sinks are manufactured so its entirety will rest on top of your vanity, and these sinks are typically made from strong ceramics or stone.
These may not be the best option for every bathroom, but they do go a very long way when it comes to improving décor and helping your bathroom obtain a more modern ambience.
Popular Kitchen Sinks
Some of the most popular kitchen sinks we support Northern Utah residents with include the following:
Double Basin Sinks
This type of sink is exactly how it sounds in that it comes with one large sink divided into two separate basins. This is a very popular style of kitchen sink all across the region, and this is largely because it helps people maximize their sink space.
For example, a double basin sink will make it easier for you to stack your dirty dishes on one side and thoroughly wash them in the other basin.
Workstation Sinks
Workstation sinks provide a long rectangle for homeowners that features one large basin and a flat "workspace" that does a great job at providing some necessary cleaning and dish stacking space. These sinks are many times more expensive when it comes to installations, and they require an adequate amount of countertop space.
But workstation sinks truly are great options for people who love to cook a lot within a professional-grade kitchen setup!
Kitchen Island Sinks
A lot of kitchens require more than just one sink, which is why many homes will want a kitchen island sink. This is an increasingly popular option for larger kitchens because it helps maximize counterspace and separate overall workflow throughout a kitchen.
One important factor to keep in mind with this type of sink is that you're going to need an island counter if you don't already have one, which is why this type of sink installation is many times a part of a new construction plumbing project.
Contact Us Online To Learn More About Our Remodel Plumbing Services For Your New Bathroom & Kitchen Sinks!
Beehive Plumbing is a leader throughout Northern Utah when it comes to all sorts of remodel plumbing services, and we just so happen to provide our clients with the largest selection of sink styles. The styles we mentioned above are just a few of the most popular sinks, so there's much more to choose from when our experts help you narrow down your best options!
Contact us online or call us today at 801-661-8155 to learn more about our sink options through our team of plumbing specialists!