The Master Plumbers at Beehive Plumbing are experienced plumbing specialists that are ready for any residential or commercial plumbing task!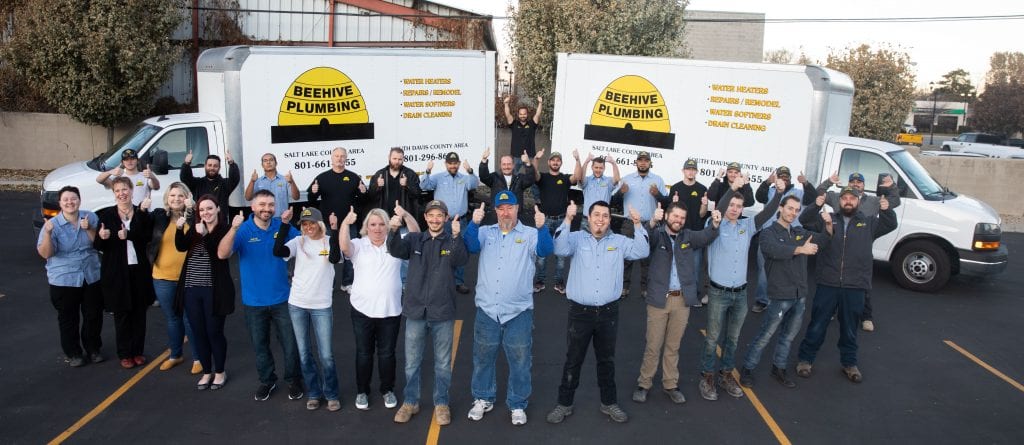 There are countless plumbers throughout the United States that have gone through the very intricate process of obtaining a journeyman's license, and the truth is that journeymen plumbers are very experienced within our ever-evolving trade.
The next move up from being a journeyman plumber is to become a master plumber, and the Master Plumbers at Beehive Plumbing have undergone these necessary application and testing processes to be certified plumbing experts.
Every home and business owner wants to work with experienced specialists when something goes awry within their plumbing system for good reasons, and it's undoubtedly true that the vast majority of residential and commercial plumbing jobs require a plumber with many years of experience.
We're by far one of the most highly experienced plumbing teams throughout all of Northern Utah, and on this page we're going over the details of what we all went through to become master plumbers.
So here's what you need to know about the overall process of becoming a master plumber:
Do You Need To Take A Test Or Not?
The Plumber's Training Institute provides a great FAQ section about what it takes to become a master plumber in the state of Utah, and this is important because requirements and specifications vary between states when it comes to climbing the plumbing industry's expertise ladder.
In Utah, it's required that journeymen plumbers undergo at least 4,000 hours of supervised experience. This is something that you'll have to verify via your tax forms, and some of your hours can be verified via an accredited education program.
But even after going through all of the necessary legwork as a journeyman plumber, Utah plumbers also are required to pass both written and practical exams. It's important to note that these exams are always VERY difficult to pass and always require rigorous study habits.
However, if you currently are a journeyman plumber in Utah then you won't necessarily have to retake your practical examination.
Honing In On Your Specific Expertise
When professional plumbers are considering the process of becoming a master plumber, then there are situations in which they'll need to specify what kind of master plumber they intend to be. The five main categories include the following:
General plumber
Steam fitters
Pipe fitters
Sprinkler fitters
General Plumbers
General plumbers are plumbing specialists that are prepared to support any and all residential or commercial plumbing projects, and the vast majority of the master plumbers at Beehive Plumbing are general plumbers.
General plumbers are experts in plumbing repairs and installations of all types, including:
And many other types of residential and commercial plumbing tasks!
Pipe Fitters
Pipe fitters are plumbing specialists that have honed in on water heater installations and repairs, and they also help people with their furnaces, boilers and other types of highly-pressurized equipment.
Pipe fitters are very important specialists when it comes to all types of water heater maintenance jobs, because they are experts when it comes to monitoring and installing the many different controls found within pressurized systems.
Steam Fitters
Steam fitters are plumbing experts that specialize in pipe installations for specific pipes in which liquids and high-pressure gases travel within.
Sprinkler fitters are plumbing specialists that work on fire sprinkler system installations within buildings.
Pipe liners are plumbing professionals that help when it comes to the actual implementations of a piping system. This process many times will include trench digging and laying pipes underneath the ground.
Sprinkler Fitters
Every sprinkler fitter has to be very knowledgeable about all different types of local code regulations, and this can include intricate details like piping sizes, spaces between sprinklers, and water pressure capacities for a building's pipes.
Pipe Liners
Pipe liners are vital experts when it comes to developing sewer lines, oil pipelines, natural gas lines and all sorts of waterlines. Pipe liners are also the specialists that will make the proper connections once the trenches are properly excavated.
What You Should Know About Becoming A Master Plumber
Every journeyman plumber in the state of Utah will have to clearly be able to demonstrate that they are very knowledgeable about a whole variety of plumbing details in order to become a licensed master plumber. Some of the details you'll need to know very well to become a master plumber include the following:
Local/state building codes
Proven abilities to properly manage intricate, large plumbing installations
Proven abilities to manage a crew of plumbing specialists and construction members
Prove that you possess state-of-the-art plumbing technology and equipment
Understanding The Required Expertise
It typically takes a journeyman plumber about 2-5 years to build up enough experience to initiate the process of becoming a master plumber, and in Utah you'll usually need to wait at least 3 years as a journeyman to gain the amount of experience you'll need to successfully become a master plumber.
Reach Out To The Master Plumbers At Beehive Plumbing To Learn More About What It Takes To Join Our Team Of Experts!
Beehive Plumbing has become one of the leading plumbing teams throughout Northern Utah over the past 20 years for a reason, and our commitment to hiring the very best plumbing specialists is a big part of our success.
We're hiring plumbing specialists that we believe are genuine experts and masters within their industry niche, and we also have a keen eye for spotting rising talent.
So always feel free to reach out to us online or call us at 801-661-8155 to get in touch with our team and let us know how our Master Plumbers can help you!