It's always crucial for property owners to do their homework prior to their next new construction plumbing project!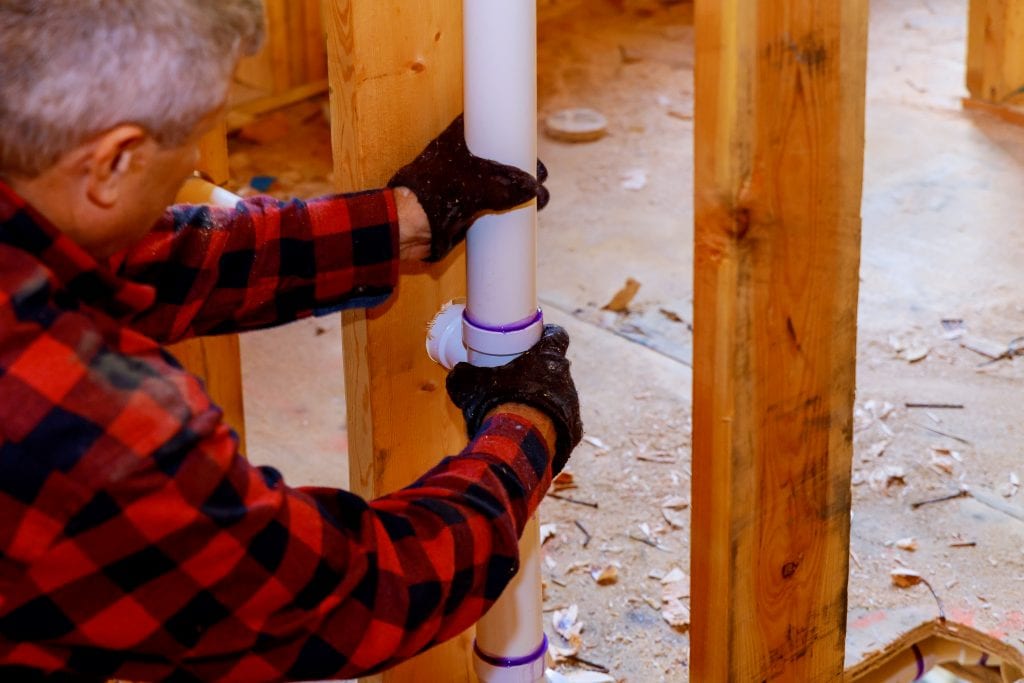 Your business or home's plumbing system is something that must be intricately planned out during the beginning stages of your construction, and a lot of property owners struggle in understanding the overall costs of these comprehensive plumbing installations.
The truth is that new construction plumbing varies in cost from project to project, as well as plumbing specialist to specialist. It's important to never compromise on your new construction's overall quality by simply choosing your cheapest option available, and working with a team of Master Plumbers will better ensure that your new plumbing system is developed correctly and won't necessitate any future maintenance costs.
Below we'll be going over what you need to know to ensure that your new construction plumbing is developed properly, and that your better able to estimate the costs of your project!
Important Factors That Affect New Construction Plumbing Costs
Although there will always be slight differences between plumbing companies, there are some essentials that every plumbing team will keep in mind when estimating new construction costs. These considerations are rather broad, but the following are some of the considerations that top-notch plumbers like Beehive Plumbing will keep in mind when narrowing down your project's budget:
1. The Overall Size Of The Home/Business
The main way that we'll gauge the size of your property is through square footage, but it's also important to keep in mind that your home's location will play a major factor in terms of the new construction plumbing costs.
There are slight variations in terms of the Northern Utah region and average costs per square foot; but the general rule of thumb that you should keep in mind is that the bigger your property is, the more your construction project will cost. This is mainly because you'll simply need more plumbing fixtures, and more comprehensive pipes.
2. The Overall Number Of Water Fixtures
Your property's plumbing will largely entail your pipes being connected to all sorts of different appliances and devices throughout your home or business. These common devices include things like showers, faucets, dishwashers, water heaters, sinks, drains and much more. So simply put, the more water fixtures you have, the more you'll end up paying in new construction plumbing.
Although the overall price of plumbing fixtures can fluctuate dramatically, you can count on our experienced team to help you understand your project's overall budget based upon the precise amount of fixtures you're looking to install.
3. Plumbing Materials
Most new construction pipes will be comprised of cross-linked polyethylene (PEX) and copper. PEX is an affordable, durable and safe pipe material for your property to utilize, despite being a plastic material. These pipes also are much less likely to burst due to their higher levels of flexibility, which is extremely important here in Northern Utah!
PEX piping installations will vary in cost, but they are more affordable as compared to copper and other piping materials.
4. How Much Excavation Is Needed
If you're building a new home or commercial property, you're inevitably going to need some excavations to install sewer lines and/or septic tanks, as well as connections to municipal water supplies. There are instances in which you'll need certain drainage systems to be dug around the perimeter of your property, and this adds to new construction costs.
It's possible for these costs to be reduced when you're building in a city or any area where you're rather close to municipal water supplies and sewer lines, but rural construction projects can sometimes be more expensive. There are instances in which connecting to a sewer line in a remote area is not easy, and this can subsequently increase the overall costs of your new construction project.
The more digging and excavating that's needed, the more your construction will cost. That's why it's very important to be diligent when choosing land to build on, and being able to calculate these types of costs when considering a rural location.
5. Extra Spaces Beyond Square Footage
Square footage is a pretty standard price point for a lot of new construction plumbing projects, but when a property is multiple stories it means there will be additional work to adjust your pipes along your walls and ceilings.
This means you'll end up paying more for this type of work, and this includes when you're adding pipes into an already existing building.
The Beehive Plumbing Team Is Here To Help You Estimate The Costs Of Your New Construction Plumbing Project
Beehive Plumbing has supported countless home and business owners with their new construction plumbing needs, so you can count on our specialists to go over the more intricate details of your project. We understand how difficult it can be to gauge your overall budget when initiating these types of massive projects, and our experts will be completely forthright and honest as we help you gauge your best options.
Contact us online or call us at 801-661-8155 to get in touch with our team and let us know what your dreams are for your new home or business!