Although frozen water heaters are rare, it's still possible here in Northern Utah!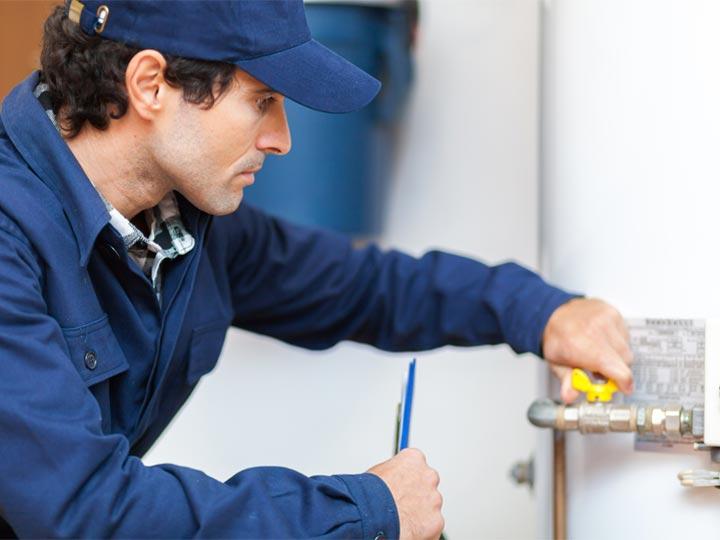 Everyone in Northern Utah understands just how important their water heaters are during the harsh winter months, but a lot of people forget how water heater repairs are often needed in order to maintain units before things go terribly wrong.
Although it's somewhat of a rare occurrence, older units can experience wear and tear that ultimately leads to a frozen water heater this time of year. If your water heater runs on electricity, it can freeze when your electric supply cuts out; and if your water heater runs on propane, it can freeze when your gas is used up.
Both conventional tank and tankless water heaters can freeze up during the winter, so here are some tips to help you avoid this type of plumbing emergency!
Ways You Can Help Prevent Your Water Heater From Freezing This Winter!
Northern Utah always experiences harsh winters, and this winter has been abnormally intense on plumbing systems all throughout the region. This is why home and business owners need to take certain precautions when it comes to their valuable plumbing appliances, including water heaters.
Here are some tips to keep in mind when it comes to preventing a frozen water heater this winter:
Regularly Draining Your Water Heater Unit
You should typically drain your water heater at least once each year to better ensure that it's running properly, and this is particularly important in Northern Utah where sediment buildup is such a common issue.
Draining your water heater unit will also be important in preventing freezing during harsh winter temperatures. A lot of people will drain their units when they know they'll be away from home for an extended period of time, and our Master Plumbers will be there for you to make sure your draining is done correctly!
Insulating Your Property's Pipes
Of course your actual water heater unit isn't the only part of your plumbing system that can freeze during harsh winter weather, and a lot of people in Northern Utah forget just how comprehensive they need to be when it comes to pipe insulation.
Even the pipes closely connected to your water heater need to be insulated, because if these pipes freeze up, it can quickly lead to serious water heater malfunctions. And insulating your home's pipes will also help your water heater in terms of overall efficiency, which can help you save on your monthly utility bills!
Keeping The Space Around Your Water Heater Warm
Although it's not always possible to heat up the residential spaces where a water heater is located, this is recommended in Northern Utah during the winter.
So always be cautious if your water heater is located in your basement or crawl space areas, because these parts of a home are often more susceptible to cold temperatures!
Keep Your Water Heater Plugged In
A lot of water heaters have freeze protection systems built into the unit, but these systems will only work if it's connected into an electrical outlet. This doesn't mean you'll always need to keep your unit on when you're away on vacation, but it does mean you should keep your water heater plugged in at all times.
And if your area experiences power outages on a frequent basis, then it's always smart to have a backup generator or battery to support your water heater unit.
Install A Recirculation System
Recirculation systems are incredible when it comes to preventing frozen water heaters in the winter, and a lot of new water heaters will have these systems built into them.
Water heaters with recirculating systems are incredibly popular in Northern Utah, and this is partly because they also help save on overall water usage!
Invest In A Freeze-Proof Water Heater
The hard truth is that if your water heater is susceptible to freezing, then it means you have a pretty old unit at your property. Northern Utah's winters are getting more and more intense each year due to climate change, so now might be the right time to invest in a water heater replacement that better protects you and your property during the coldest months of the year.
The latest water heater models feature anti-freeze sensors that recognize when a unit's temperature is dropping, and these sensors will activate a thaw mode that prevents the unit from freezing up!
Install A Solenoid Valve
Solenoid valves are also good investments for Northern Utah property owners, because these valves will recognize when your power supply has been shut off and will let the water out of your unit to prevent freezing.
The Beehive Plumbing Team Is Here To Help You Prevent A Frozen Water Heater Scenario This Winter!
Beehive Plumbing has supported homes and businesses throughout Northern Utah when it comes to preventative plumbing measures during our harsh winters, and we know just how important it is to prevent frozen water heaters this time of year.
Contact us online or give us a call at 801-661-8155 to speak with our water heater experts today and see how we can help prepare your plumbing system for a safer winter!