P-Traps are important residential plumbing elements that you should know about!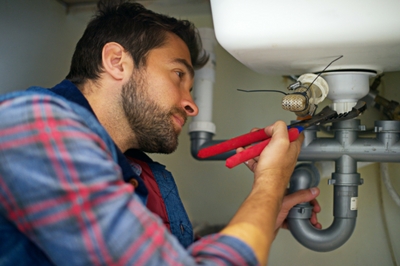 Plumbing traps are often also referred to as p-traps for short, and they're incredibly important parts of residential plumbing systems everywhere. P-traps are typically PVC or metal pipes that curve underneath your drains, so you've likely seen these pipes underneath your sinks but weren't exactly sure why they're so oddly shaped!
Below we'll be explaining the common purposes of p-traps, how they work, and common issues that Northern Utah homeowners sometimes experience:
The Main Purposes of P-Traps
There are many different purposes associated with the p-traps underneath your kitchen and bathroom sinks, including:
Trapping Debris
Once sink debris is properly caught within a p-trap, it'll allow the debris to wash down the drain. This is incredibly important because it helps prevent clog development within your home's plumbing system.
Preventing Smells
The curved shape of p-traps helps them retain small amounts of water, and this subsequently leads to sewer odors being trapped down deep within your pipes.
No one wants to experience foul smells emanating throughout their home, and p-traps help make this home comfort possible.
Catching Solid Objects
Another important purpose of the p-trap is to trap all sorts of objects before they actually go into your home's drainage system. The common example of a solid object getting lost down the drain is a wedding ring that accidentally falls into a sink, and the p-trap makes this scenario a lot more manageable.
How P-Traps Work
P-traps are generally the same when it comes to your kitchens and bathrooms, but the main difference between these fixtures is the size.
P-traps function by utilizing a water seal within the curved portion of the pipe, and this curvature is what traps sewer smells from coming up into your home. The actual shape of the p-trap also helps retain solid particles so that they can better dissolve before entering your drainage.
Common Issues With P-Traps
Although p-trap materials like PVC and ABS are typically very durable, there are some issues that can come up as these pipes get older.
Below are some common issues associated with p-traps:
Drying
If you don't use your drain for several days a time, the p-trap's water may dry out. This is a problem because it potentially allows all that trapped sewer odor to come into your home, but the good news is that restoring a p-trap's water seal is as easy as pouring water down your drain!
Leaks
P-traps can also spring leaks from time to time, and this is probably the most common issue that occurs with p-traps. Leaks can end up creating structural damages to your cabinets, and these leaks are something that must be properly addressed as quickly as possible!
Odors
When you're experiencing something like a p-trap leak, then this means that you're also going to need to get your p-trap's water seal replaced. No one likes having foul smells in their home due to a faulty p-trap, because these are basic sink plumbing repairs that our experts can handle for you!
Clogs
We all know just how frequently kitchen sinks can get clogged when large food chunks get accidentally tossed down the drain. This is a troubling scenario because food chunks can eventually rot or decay within your p-trap, which leads to a rotten smell throughout your kitchen.
It's also important to note that shower and bathtub p-traps can get clogged up by hair, soap scum and other types of blockages. These types of p-trap clogs are much more difficult to remove, and they'll often require our cutting-edge drain cleaning solutions!
Reach Out To Us Today To Learn More About How We Can Support You & Your Northern Utah Home's P-Traps!
P-traps are found underneath all of your home's faucets, so you're inevitably going to have a couple that will need to get checked out by experts every now and again.
Beehive Plumbing has supported Northern Utah households with p-trap installations and repairs of over 20 years, and our specialists will be there for you when you notice something going wrong with your bathroom or kitchen's sinks.
Contact us online or call us at 801-661-8155 to speak with our sink plumbing experts today about what's going on at your home!