Pipe bursts are always very serious plumbing repairs that will require swift action from homeowners!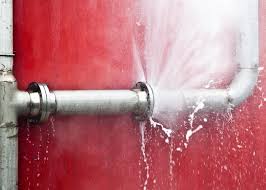 Coming home to a pipe burst is a homeowner's nightmare, and pipe bursts just so happen to be very common throughout Northern Utah due to our harsh winters. When your pipes freeze up, water expansions of 9% in volume are possible. This then leads to unbelievably disastrous rises in water pressure, which no pipe can handle.
When your home experiences a pipe burst, you'll inevitably be left with major plumbing repairs, water pressure issues and leaks. There's no doubt about it that a pipe burst is an emergency plumbing situation that'll require swift action to prevent further structural damages.
The Beehive Plumbing team is here to support you and your household when you're going through these disastrous plumbing situations, and below are some of the first steps you should take when you discover that your property is experiencing a pipe burst!
Turn Off Your Home's Water Supply
The very first thing you should do when you discover a pipe burst is shut off the water supply that sources the specific pipe, and this will typically mean simply shutting off your property's water main.
Your water main may be outside your home or near your street curb, but if you don't know where it's located then you should look for a concrete box labeled "water" to find it. Many properties will have their water main box located indoors, so be sure to check your crawl space, basement and around your water heater.
But simply ensuring your water main is switched to the OFF position will help you prevent further water damage while you're trying to figure out this type of chaotic plumbing emergency!
Drain Your Toilets And Faucets
Once your main water valve has been shut off, you should then empty out all of the remaining water that is within your home's pipes. You'll end up doing this by turning all of your faucets on until the excess water has effectively been drained out.
You should also flush your toilets a few times, because this will help you to subside the leaking and prevent any additional freezing.
Locate The Specific Location Of Your Busted Pipe
There are many situations in which it's really difficult for homeowners to pinpoint the exact location of a burst pipe, so you should be on the lookout for warped ceilings or walls, puddles accumulating on your floor, or any other type of water leakage signs.
And if you notice any water that's still dripping from a pipe, the best option in these initial moments is to place a bucket underneath it.
Turn Up Your Home's Heat
This is the moment when you need to do whatever it takes to thaw your frozen pipes, and you can do this by cranking up the heat within your home and closing all exterior doors/windows.
You should also consider opening up your closets and cabinets to allow warm air to get into these tighter spaces, and if you were able to find the exact location of the burst pipe then you can thaw the pipe directly with something like a hairdryer.
Reach Out To A Reputable Plumbing Team
At this point you should have your water leakage under some control, so it'll be time to reach out to the plumbing specialists in your local area. Experienced emergency plumbers like the Master Plumbers at Beehive Plumbing will know exactly how to fix your pipe and remediate the water damage you've incurred.
Our team will also help you when it comes to preventing future pipe bursts as well.
Document Everything
This is particularly important if you're planning on filing a homeowner's insurance claim, because you're going to need tangible proof of damages. This means you should take as many pictures/videos as you can, and develop a timeline of the plumbing emergency. You should also properly document all of the incurred damages.
You're going to need all the evidence that you can obtain in these types of insurance claim situations, so hold on to any ruined materials or pipes until you've fully settled your insurance claim.
Cleaning Up The Water Damage
It's also really crucial to clear away any water damage in a timely manner, and you can do this quickly be soaking up excess water with a mop or other types of absorbent towels.
Running a dehumidifier and fan will also help to ensure that the excess water evaporates more efficiently.
Reach Out To The Beehive Plumbing Specialists When You Experience A Pipe Burst
Beehive Plumbing has helped countless residential and commercial properties throughout Northern Utah with burst pipe situations, so you can count on our experience and expertise to support you during these tough scenarios.
Contact us online or call us directly at 801-661-8155 to have our emergency plumbing crew come to your property ASAP and remediate your burst pipe!